rector
Now where did I put that...?

| | |
| --- | --- |
| Joined: | Sat Oct 13th, 2007 |
| Location: | New York USA |
| Posts: | 3945 |
| Status: | Offline |
My photos:
view photos in Gallery
view photos as slides
I bought this railway simulator back at the beginning of the summer ('07) and have just found the saved text:

It's taken me a while to get round to looking at this software package but on a very rainy Monday in Wainscott, with varnish slowly drying on the layout pond and not a sharp craft knife blade in sight (I really must go to the shops!) it's time to try out Microsoft Train Simulator.

This is a two CD set compatible with any PC Operating System between Windows 95 and XP – although there will be a Vista version soon, I read somewhere. Don't know about Mac versions yet. The latest versions retail for about $20 U.S. but I bought a new 2001 version from Amazon Dot Com for $8 U.S.

Loading time is approximately fifteen minutes. As with any complex simulation there is a ton of stuff to download onto the hard drive. Once completed the second CD stays in the disk drawer to play the game.

There's a good overview option, and then the "engineer" (the driver – remember this is a USA-based simulation although there is a UK steam line option) is invited to take a tutorial in an engine of his choice, electric, diesel or steam. I opted for diesel, and selected a Santa Fe "Dash 9" locomotive.

I'd give the tutorial full marks. It was crystal clear with both audio instructions and scrolling text. Not too much information, but enough to get rolling with a small degree of confidence. (Yeah, really!) I was totally bamboozled at first by references to Dynamic Brake Systems, train brakes, locomotive brakes, ammeters, system alert warnings and the like, but after ten minutes it came to an end and I went on to drive my own Dash 9 up into some rolling hills, I think in Wyoming! It was very much a case of, "Hey, we're moving!" and then cautiously making my way along the track. No speed or efficiency records were broken today, but I didn't derail or hit anything, used sand once, and even managed to stop the freight train at the right places! Oh – and sound the horn at the proper times!

All controls are keyboard and/or mouse operated. I've only got the basics under my hat at the moment – very much a stop/go, slow up/slow down journey – and there is a lot more to learn. The complete Engineers Manual is a 95 page PDF document available straight from the disk, online, or can be printed out.

Graphic quality is good to excellent in places, and I'm sure that the more recent versions of the simulator have improved since 2001. There are also many downloadable extras and 'add-ons' available.

I did save some screen images (by pressing Print Screen) but I have no idea where they are being stored as yet! This picture is a generic one taken room inside the cab of the Dash 9.

Am I hooked? Of course!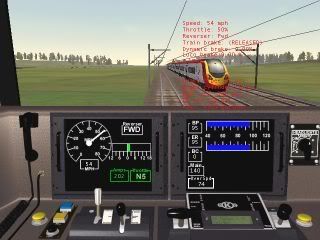 ____________________
Tim. Cleric and artist, finding his railway modelling stuff after too long in the wilderness.