Chubber
Casseroled Badger

My photos:
view photos in Gallery
view photos as slides
It all started after this post in response to my whinging about my difficulties in making a traverser work..........and seem to go on for ever, so I have gathered them all together from my layout thread which I expect to edit and change. I hope it will help anyone else contemplating the same project. Blame Brian!!

henryparrot wrote: Doug

Why not have a turntable instead of a traverser that way you can change tracks and even turn the loco if you want to,

The set up is the same as your drawing the only differance would be the 2 outside tracks would be curved at the end to meet the turntable.

cheers Brian

Well, having seen the light at last, I'm going to try the turntable option. Herewith a go at a fiddle yard TT, MDF disc rebated all round by router to fit a mating hole in the baseboard, an MDF table 3mm smaller in diameter and drilled to accept a concentric plumbing fitting as a bearing, which will, hopefully carry current for one rail.

I'm planning on using 2mm thick nylon 'buttons' under the table for it to slide round on, having first varnished and waxed the lower disc. I plan on gluing a ring of tinplate down to conduct power via a wiper to the other rail.

Off to the shops tomorrow to try and buy some 2-part epoxy resin to glue in the 'bearings'.

For now it will be 'handraulic' but I shall fit a big ply pulley wheel to the copper pipe shaft in case I get adventurous.....or more stupid, whichever comes first. Thinking about spring detents and slipping driving belts again....

Thank God, no traverser dreams......Oh no.....now turntable nightmares..........should it be a sector plate, er, uhm, those aluminium casettes look good, but er, uhm, when I'm pi%%ed I'll drop the lot, oh, why didn't I take up stamp collecting?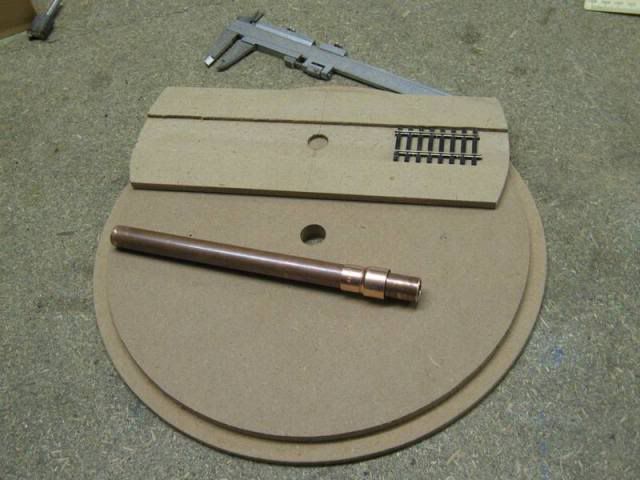 I had great fun today, after taking a chum to Bordeaux Airport in some of the heaviest rain I can remember, which turned a 90 minute trip into 2 hours plus of knuckle biting each way, I sweated an 8BA stud to the outer 'bearing' to conduct one rail's current, and using a Bosch router head held in a machine vice on my pillar drill made up a 4" pulley wheel in MDF [remember, if the aluminium kicks in soon I'll be trying auto-drive system...] and drilled and fitted the underside of the table with 4 nylon buttons from some Ikea kitchen units.

I have to make a 3" ring of tinplate to use as a slip-ring to conduct the other rail's current, and tomorrow will try sandwiching some flattened baked bean can between two thin sheets of ply and going at it with a fret-saw blade in my jig-saw, followed by a bit of patient work with a half-round 10" file.........

Catchup with y'all tomorrow, y'hear? [Sorry, spent 1/2 hour talking to a Texan at the aerodrome.....]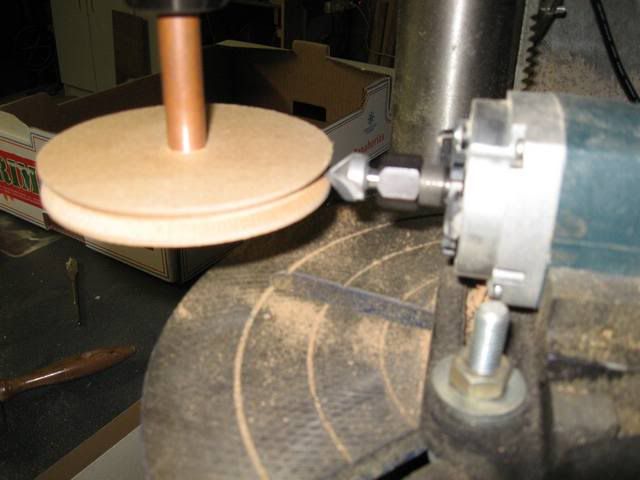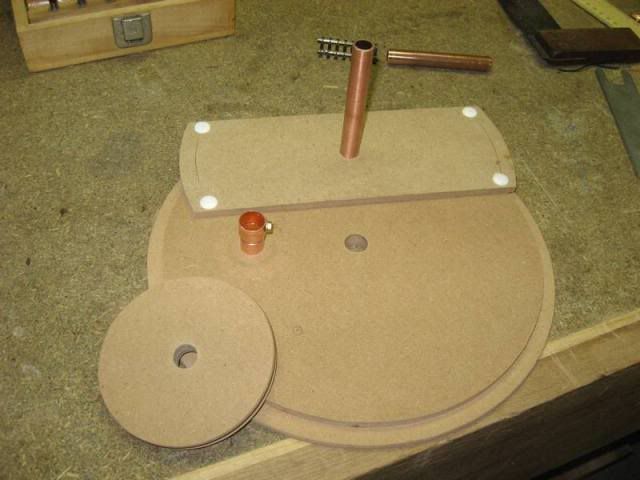 Pete - Re using your vice-held router to run the groove in the pulley - how did you hold the pulley ? Presumably on a pin of some kind

Hi, Pete, a very tight fit and smear of Bostick, then to get it free, warm the copper pipe with the blow lamp and the glue gives up enough to pull it off. Otherwise I'll drill though the end of the inside of the pipe and insert a self tapper.

Doug


Hi, Gang!

As usual, one step forward, one step back....you know if it were to rain Oxtail soup, my bowl would be upside down......

The nylon buttons [sliding on, for the use of, four in number (for those of you who have done national Service etc...)] did not work, I'd have needed the motor from a Dyson to turn the table should I go down the electro-draulic route instead of hand-draulic,

so,

back to the drawing board.

All turn tables run on wheels. Where to find wheels?.

Drawer stops, yes, sliced up drawer stops from M.F.I. furniture, see piccy 1, sawn [very carefully] with a Yappanese pull saw, the slice pressed into a counter-bored hole in a piece of flat tree and then pared flat with a paring chisel, in this case my Dad's old pear-wood handled 5/8" paring chisel . See piccy 2.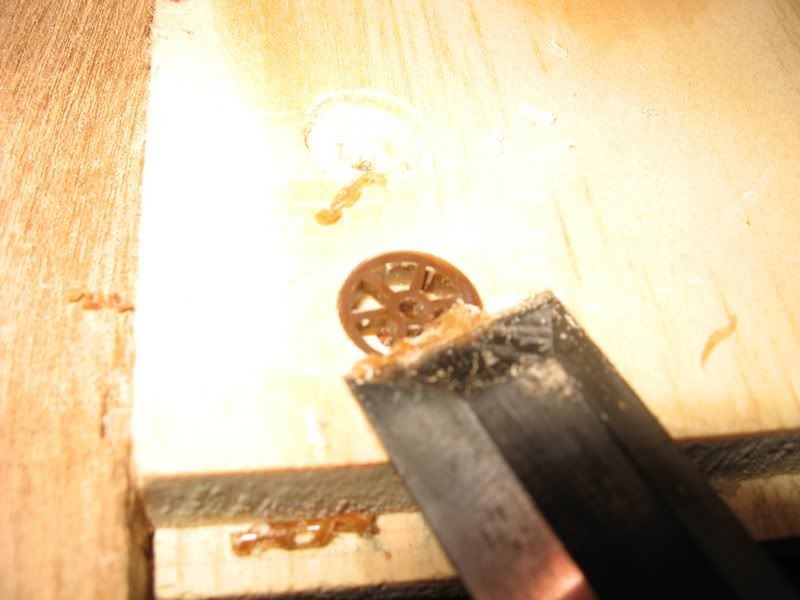 Then an axle is needed, the 'Law of Sods' says nothing fits, so file some down in the drill chuck, a.k.a. 'The Bodger's Lathe'. See piccy 3.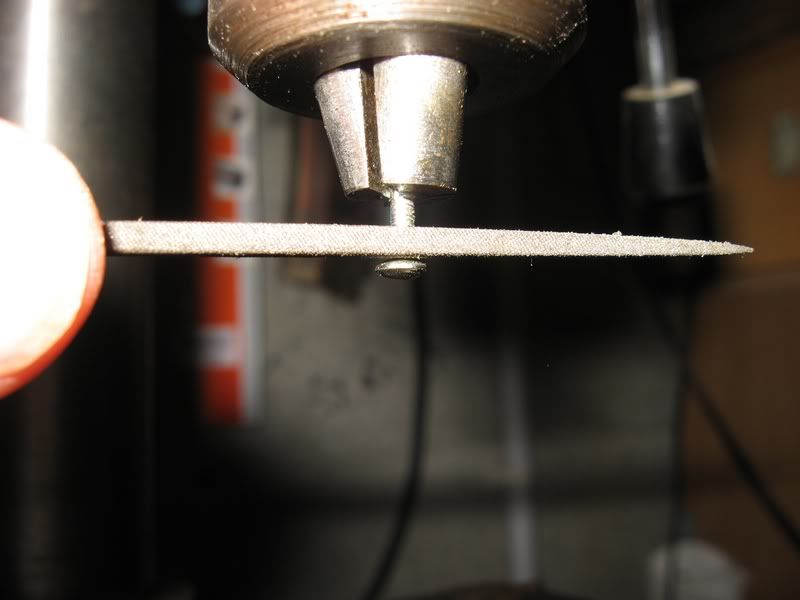 Now, the axle needs to align with the natural radius of the table, so draw a diameter line, clamp the table to a square piece of tree, clamp that to the drill press and using a length of steel rod, align the table lines with the chuck. See piccy 4.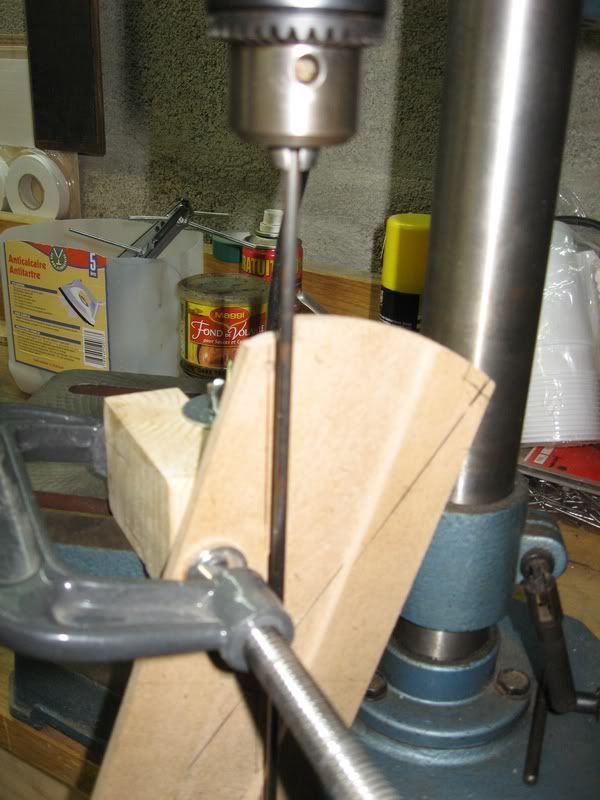 Substitute a drill for the rod, swing in the table to the center of the table thickness, and remembering that M.D.F. will 'gas' when end-drilled and tends to split if no escape is provided for the gas [see little holes....] drill slowly into the ends of the table where suitable cut-outs provide a place for each 'wheel' to hide. See piccy 5 and six.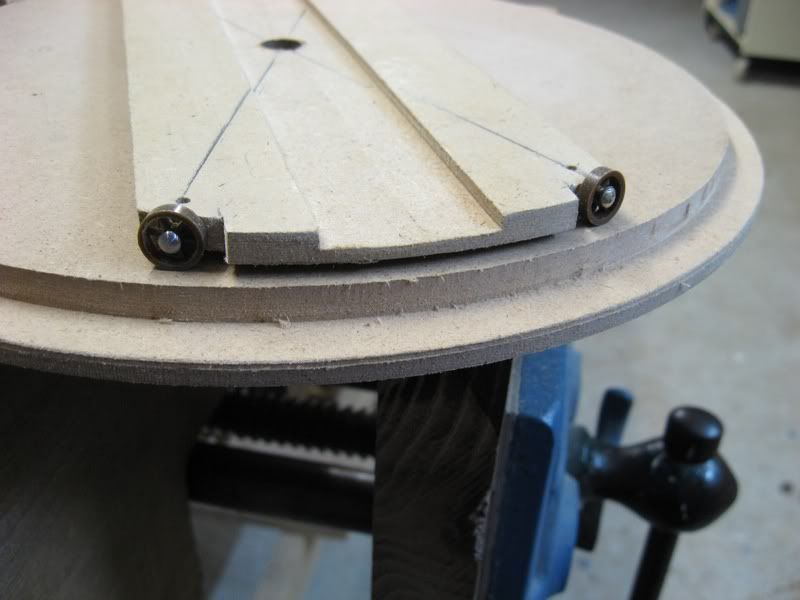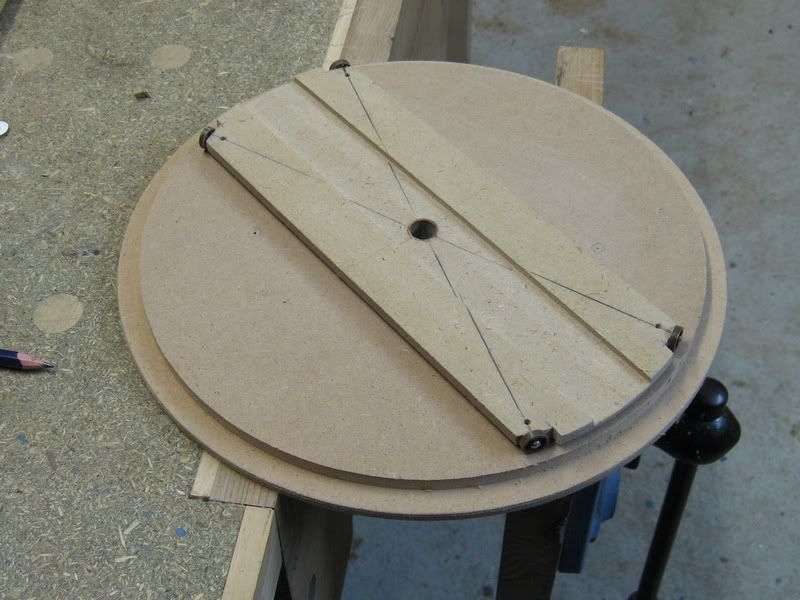 Now it seems to turn quite smoothly....I wonder what the next problem will be??

Poop-poop!

Thanks for your kind remrks, every one,here's the pulley/hand turning wheel which will be under the baseboard, within reach of the operating position.

It will be fixed in position on the shaft by a self tapping screw let into the side of the 'boss' which has been araldited on. The 1/4" dowel on the boss allows the screw to get a grip in the MDF boss without splitting the weaker MDF.

A flexible wire has been sweated inside the the tube which will carry current to one rail, done before assembly to avoid heating copper embedded in MDF.

The other rail will be fed by a wiper contact on a ring of tinplate under the table.

The jury is out on this at the moment as to the best way to do this, attempt number three isn't too bad, but I want better.

Hope this is making sense!!!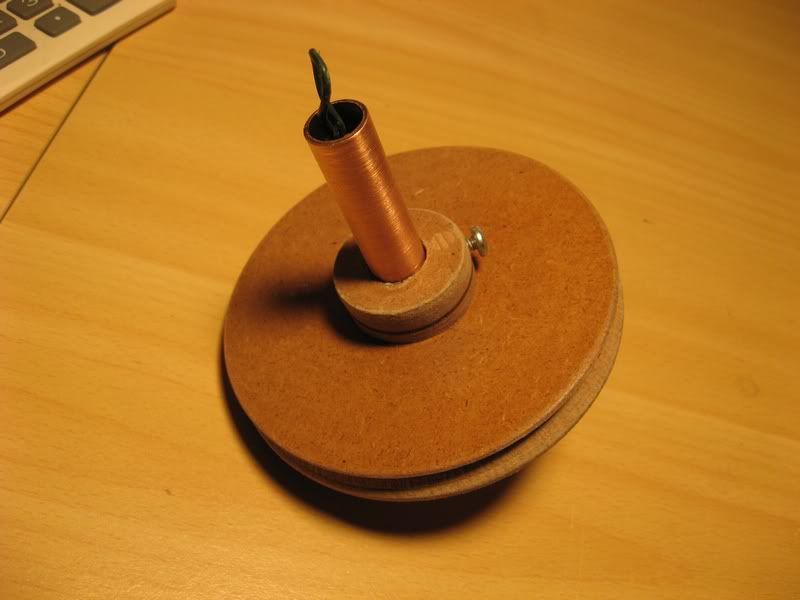 Well, three coats of grey acrylic car primer later, and some chopped up flexi-track and it's looking a bit less 'Blue Peter-ish'.

When I finally glue the track down, I'll cut out the complete sleepers once the other chairs are dry, and it'll look like a line of chairs alone.

[That's the plan...I know...Mice and men....]





Peter - What are you going to glue the track down with DD ?

I'm not certain yet, but I may use Copydex, it's secure but not 'terminal', if you know what I mean, and give a few minutes working. I intend aligning and sticking one end with the 'feed' line, then turning 180* before sticking down the other end, so that I can reduce eccentricity as much as possible [Thought.......reduce eccentricity...what, on this forum????
]


Well, I've been rained off the wall job, so had an hour or two in the workshop and carried on with the turntable.

I'll energise one of the rails by the central copper pipe, [see above] and for the other I have made a little wiper with a brass nail and a spring from beers can tin, to run on a tin plate circle.

I need not have cut away the sleepers, but if I were to do a semi-scale one for a visible part of a layout, it was good practice.

Having fiddled about getting the central rail to line up with scraps of track in one sense and then 180* about, I ran a little superglue under the two end chairs at each end, which had already been cut from their sleeper, and let them dry. Then, using a little slip of beer-can tin [it's only about 5 thou thick] with superglue on it, I put glue on the underside of the separated chairs, and when they were dry, cut through the whole sleepers with a scalpel before repeating the gluing process with them.

The circular turntable part is fitted into a square of 1/2" MDF with 3 x 4mm studs at 120* centers tapped into the square MDF so that it can be 'levelled' withing the square.




This is the first go at wiring up and trying a loco on the table rail, all worked!

There is no need to do the reverse thing for the 'lectrics, 'forward' when you drive on is forwards off. What happens later is any one's guess.......

First, to make sure the turning table rails were exactly the same length, I put a disc in my mini-drill and, holding the disc and drill firmly in the right place, gently turned the table round until all the four rails were ground to the same length.

I soldered down the first entry/exit rails to brass screws, fixed the revolving table to them with a piece of grooved wood, drilled holes to accept more brass screws brass screws and fixed the opposite rails similarly. I chose 60mm lengths and cut away all but 6 sleepers, and removed the webs and joiners between them to that they could be slid up and down whilst I soldered the rail to brass screws set at the right height. That prevented the sleepers being too close to the hot bit, and kept the gauge well without melting them.

For the first 'extra' entry/exit and in order to make good sense rail geometry-wise, I stuck two bits of rail onto a turnout with rail joiners and laid it on top of the table rail. I carefully marked where the extensions lay across the outer fixed part of the table.

That gave me the 12* angle for the next entry/exit track, which hopefully will align nicely with a three rail feed constructed with the 12* Peco pointwork.





Finally, I have decided to add a tin plate indexing system using a dome-headed upholstery nail on the underside to coincide with a countersunk hole in the base plate. A little plastic sleeve works as a handle, although turning the pulley underneath lets it click into alignment quite nicely. Don't ask why there are a pair of tracks at right angles to the others, it seemed like a good idea at the time!!!!





If I were to do it again [AAaaagh!] I would set up the indexing system BEFORE installing the track-work.

The square base-plate will be let into an opening cut the fiddle yard board and will be supported on washers screwed underneath so as to project into the opening.That way I can fine-tune the levels by un/screwing/up the washers.

Poop poop!



____________________
'You may share the labours of the great, but you will not share the spoil...' Aesop's Fables

"Beer is proof that God loves us and wants us to be happy" - Benjamin Franklin


In the land of the slap-dash and implausible, mediocrity is king