Chubber
Casseroled Badger

My photos:
view photos in Gallery
view photos as slides
87 101 wrote: Great to see another user of the scalescenes windows and arches kit. It was about this time last year I used the same to build the back wall of st davids station hotel. How did you get the sign writing on to the brickwork? Was it just a case of printing the sign on to transfer paper ?

Hi, Dave,

The Scalescenes windows are ok but print too dark and shiny for my liking. Sadly I discovered too late for this part of the model that you can subtly alter the finish and colour by dusting with talc and/or pastel dust immediately after printing. In the picture below, the RH window has been dusted with Imperial Leather talc [!] and the LH is 'as printed'. I have tried orange and brown pastel to give a good 'rusty metal window frame' effect.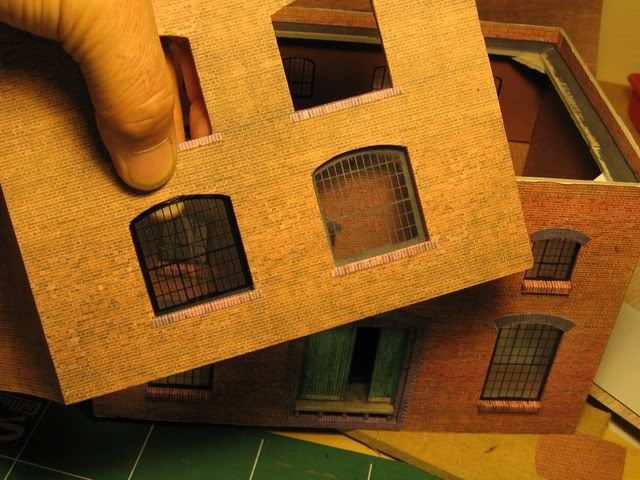 I get the printing onto the brick paper by scanning the paper into Microsoft Photodraw, and using the 'Insert Text' option. I choose a suitable font and colour, then reduce transparency to about 70%, or, when I start to see the brick starting to show through enough, and when the colour has faded enough to be a scale colour. Then in this case I applied a 1/2pt outline in a medium grey at 20% transparency. Finally I use Clone to clone over some of the adjacent background to show missing/faded paint in various places.

It can be tricky getting the sign writing in exactly the right place on a virgin sheet of paper, so, sometimes before I put on any window sills, steps, etc, I'll scan the side of a building, do the fiddling about, then cut out the relevant bit of paper and stick it on the side of the part completed building.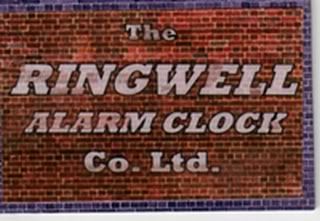 ____________________
'You may share the labours of the great, but you will not share the spoil...' Aesop's Fables

"Beer is proof that God loves us and wants us to be happy" - Benjamin Franklin


In the land of the slap-dash and implausible, mediocrity is king