MikeC
Former Member



| | |
| --- | --- |
| Joined: | |
| Location: | |
| Posts: | |
| Status: | Offline |
My photos:
view photos in Gallery
view photos as slides
Here's a rundown of how I went about the new backscene painted for one end of the layout. It's 36x24ins, painted with acrylics
Colours: Ultramarine blue , red oxide, napthol yellow, napthol red, white [sample pot of matt primer]

The board was primed with one coat of artists gesso, then I painted the whole thing in sky colour - ultra blue, red oxide and white. I hoped the blue underpainting would stop the whole thing getting too warm.

The darker hill/distant trees was added after most of the foreground because the scene was very insipid until then. It was a mix of blue, red oxide and white, plus a little yellow for luck.



Fine branches were put in with a fine round brush, and some of the bare trees were done with the fan brush, used mostly on its edge with not much paint at a time.



Buildings were blocked in with a sharp flat brush and near white. Details added with the fine rigger brush.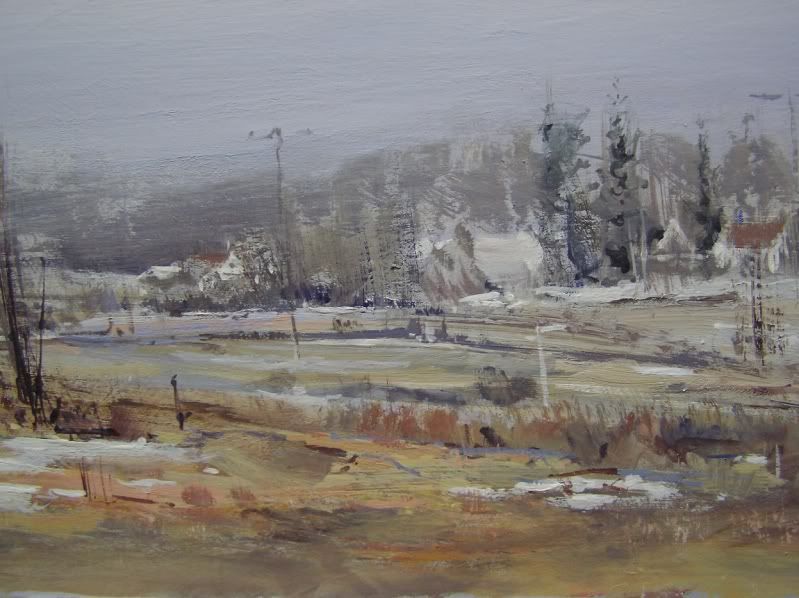 Snowy patches were kept off-white. Sky clour was added to many of the mixes to keep them 'quiet'.
I didn't take any progress shots because I didn't know where I was going with it.

Next task will be a more industrial scene for the opposite end. I'll try to take some progress pics as I go, if anyone's interested, but again it will be uncharted territory for me, so it might be a bit hit and miss.

Please ask any questions at all.

Mike