MikeC
Former Member



| | |
| --- | --- |
| Joined: | |
| Location: | |
| Posts: | |
| Status: | Offline |
My photos:
view photos in Gallery
view photos as slides
Time for a biggish tree. This one turned out a bit bigger than I had intended, not that it's out of scale. It does go to show, though, that it pays to measure the height you want before stating to paint. [note to self
]

I started with a basic sky, just like the one in the first demo, and painted a hill in front of it, making the green with a blue and yellow, plus some red to control the strength of the green.
The tree was then started with a half-inch wide flat brush. When working in oils or as in this case, acrylics, you start with the darks and work up to the lights. It's the reverse in watercolour - don't ask me why
This doesn't mean you can't retouch the darks later on. In fact I did that same thing for this tree.

I made a brown by mixing red and a tube green - evocatively named 'Deep Green' - plus a little blue because the brown was a bit rich.




More blue plus some white was added to that mix to vary it a bit to create depth.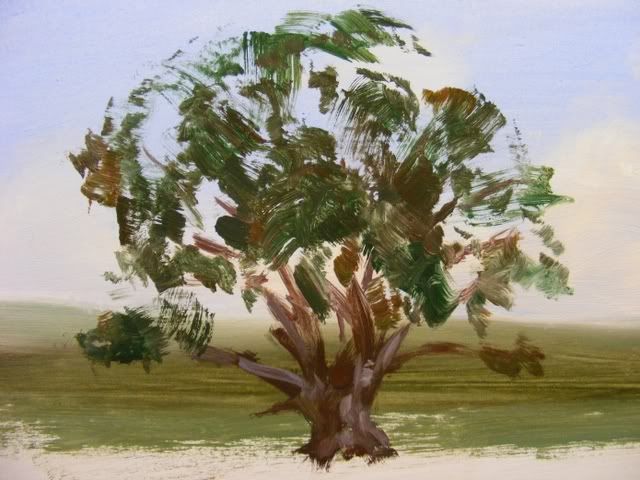 The foliage was started with a one inch wide flat brush, using the deep green + some red [not much] + some dark blue [not much] I also chucked some of the brown in there for variety. I left plenty of gaps.

Next I took my fan brush - a couple are shown in the brushes photo - and added the mid tone which was a pleasant faintly yellowish green made from the deep green plus yellow and white.



The next photo shows that more dark was added after the mid tone. Sky blue was also lightly and very gently brushed over the outermost edges of the foliage mass to help it settle down into the scene.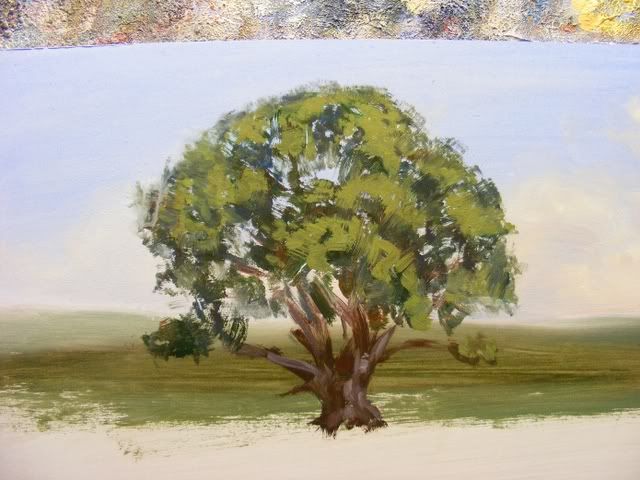 The added darks and sky colour also mixed slightly with the mid-green, taming it down slightly, which was fine by me. If it had been too much then it would simply be a matter of adding more of the mid.
To look convincing, sky hole should usually be surrounded by darker foliage which of course is in silhouette against the sky. Similarly, branches and twigs tend to be darker against the sky. These are guidelines of course, not hard and fast rules, but it's handy to keep them in mind.

Next job was to add some gentle highlights - just a paler yellow to yellow green. It's important these aren't overdone. To get form we need three tones: dark, mid, and light, but too much light will weaken the effect.

More darks were added to the inner parts of the trunk, and some dark branches were added to the sky holes. I mixed a dark purple to the deep green for this. Small fine brush required.
Then some lighter branches were added. The basic tree trunk mix plus a good dollop of white did the trick: