MikeC
Former Member



| | |
| --- | --- |
| Joined: | |
| Location: | |
| Posts: | |
| Status: | Offline |
My photos:
view photos in Gallery
view photos as slides
This is how I've been making my shrubs.
I start with a very simple twisted copper wire frame. You could use fine galvanised tie wire, but the copper tarnishes nicely, so it doesn't look as bad if you miss a bit with the paintbrush.
For shrubs I like to have more than one trunk, so I often bend the wire 'cable' double, then unravel both ends. I don't bend it on the halfway mark because I want uneven heights to the two trunks. I use pliers to pinch it tight at the 'vee', and then it'll be easy to plug it into the landscape.
Here's a pic of the early stages.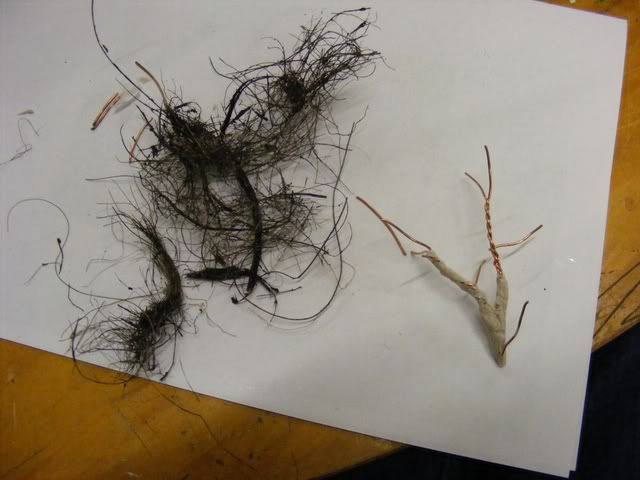 DAS clay has been applied and glued, but only where the trunk will perhaps be visible. Pre-painted coconut fibres [hanging basket liner] on hand. The frame has been cut back to a height of 60mm, or 15 ft in OO scale, a bit more in HO. It'll gain some height with foliage, and lose some when plugged in.

Next photo shows a clump of fibre glued in, and more ready to go. Sometimes I twist them tight at one end, as shown here, and it makes for good twig clumps, but that's more important in a specimen tree where the branches will be on show. This one will be a pretty dense shrub, so it doesn't matter really. For smaller shrubs you can do away with the wire and just base them on twisted fibres - quick and easy.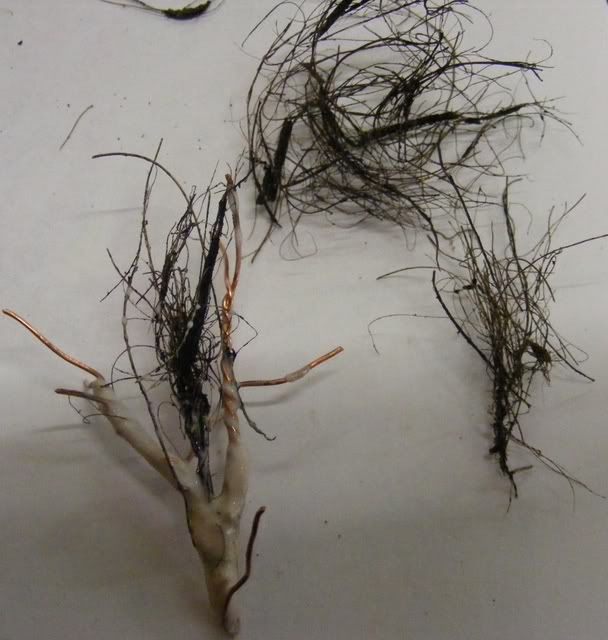 Here's how it ends up - just a tangle of branches. You can cut away any annoying loops in the fibres.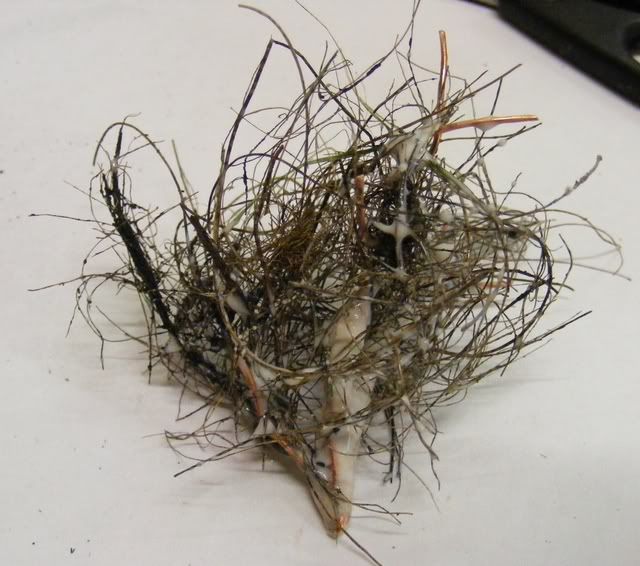 Depending on how it looks with the foliage, I might snip back some of the wires yet.

Next step will be to paint it, but I have to wait for it to dry.

This morning I finished the shrub.
To start with I cut away any noticeable loops in the fibres, and then teased it all out to a more pleasing shape. There's so much full-strength PVA glue on it that it can take some pretty rough handling, and those fibres are tough!
Then I half-heartedly painted the trunks and branches with a drab grey made from black, red and white. I didn't bother covering it all. Probably not much will be visible anyway.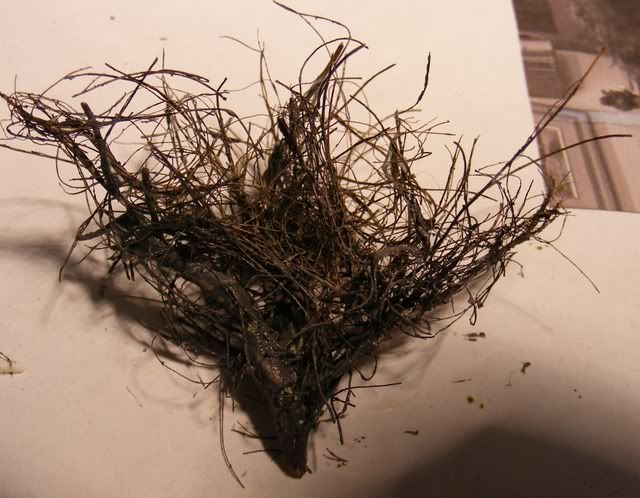 Next step is the foliage - in this case Woodland Scenics medium green foliage mat [ #F52] I always test for fit and appearance before gluing the pieces on.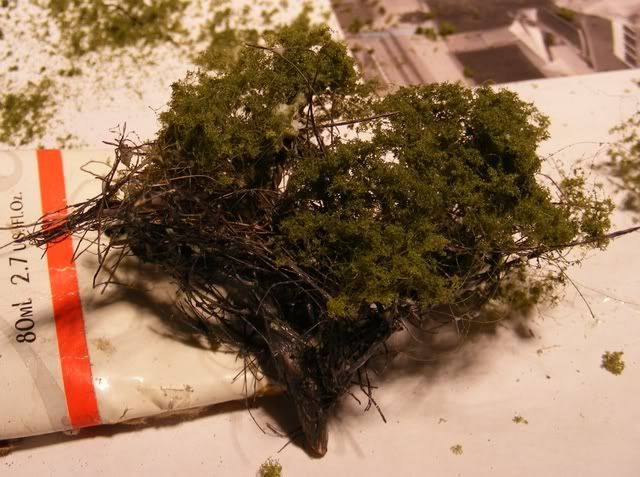 At last it's looking less like something the cat coughed up

More foliage added- just about done.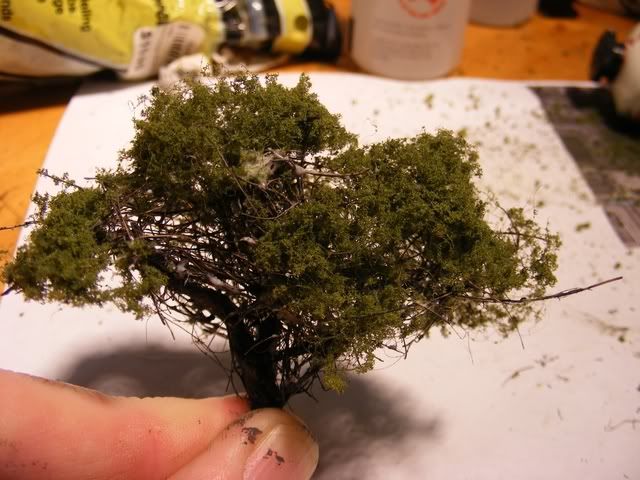 Viewed from above: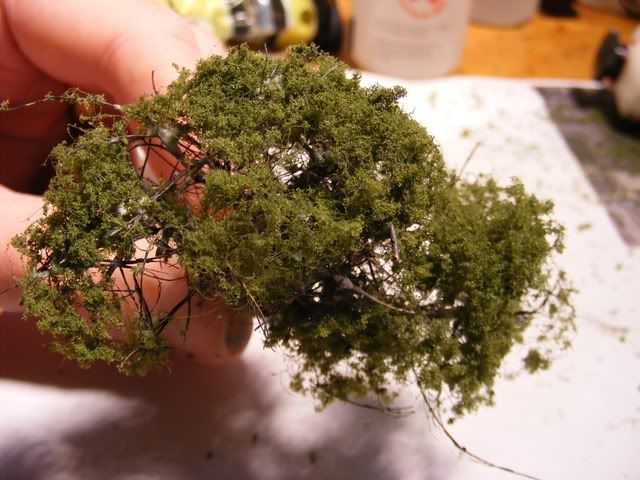 I keep poking and prodding it as I go to improve the shape.

To finish it off, I randomly dabbed on some glue, then dipped the shrub into some Woodland Scenics coarse turf - burnt grass colour [#T62] That helped make the foliage look a bit older. I also dabbed on some minute touches of orange paint [red oxide + yellow = a fairly tame orange] to hopefully simulate some faint autumn colour.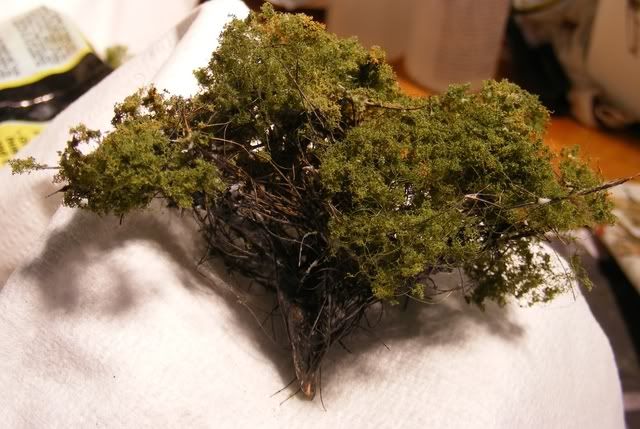 Finally a view of it planted on the diorama. [taken with my Olympus] The other photos were taken indoors with my daughter's Fuji and their colour isn't great.



Mike