MikeC
Former Member



| | |
| --- | --- |
| Joined: | |
| Location: | |
| Posts: | |
| Status: | Offline |
My photos:
view photos in Gallery
view photos as slides
Thankyou Bob and Reg.

Here's how I coloured my chimney. I hope it gives a good idea of how I went about doing the walls. The methods I used are identical. Please remember that everything here constitutes a 'what-I-did', and I know darned well that I don't know everything. Far from it!

First up, here's the chimney alongside some Slater's Plastikard Stonework sheet. The chimney is built up over a block of balsa wood, with 1mm thick styrene for a capping, and a bit of ballpoint pen ink refill tube as the pot. The ink tube was filed a bit rough to accept paint better.
Just to show the effect you can get with pastels, I've rubbed some pastel dust onto part of the unpainted card, and sprayed it with my magic spray
[photo following]



To start colouring the chimney [and walls] I mixed black acrylic paint with some mid-toned blue, which is an opaque colour. It produces a semi-opaque and grimy dark grey which I love. I slapped it all over the stonework.



Then I rubbed the excess paint away with my fingers. Paint sure is good at hiding flaws


I mixed some black and red oxide acrylics to make a dirty terracotta colour and painted the chimney pot with it, as well as working some into the still-wet bluish-black. Then I carefully painted blue-black onto the flat top of the chimney around the base of the pot.



I wiped away any overly thick patches and set it aside to dry.
I used a blade to scrape some pastels into a pile of dust. I used white and a mild yellow that if it was paint I would have named Naples Yellow. I mixed the two dusts together with a dry brush.



When the paint was thoroughly dry I dipped a finger into the dust and wiped it onto the chimney, exactly as I did on the walls. It wasn't so easy to be hit and miss on such a small surface, and I doubt that really matters in this case. The dust will not adhere permanently.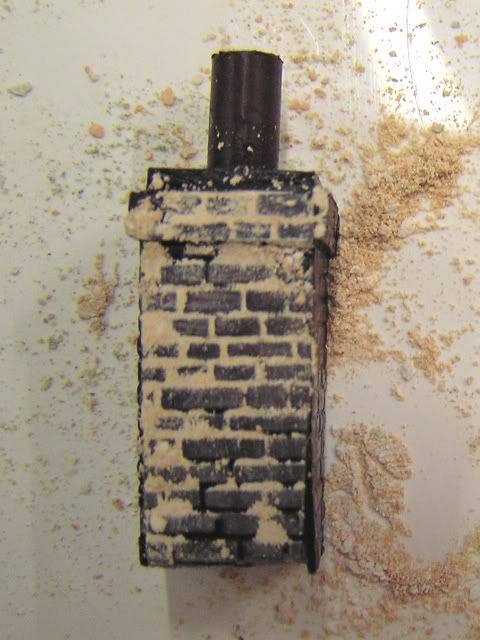 I rubbed my fingers over it which smoothed things a lot, and the dust lightened the dark surface of the stonework nicely. I figured, rightly or wrongly, that close to the 'business end' of the chimney, the stonework and mortar would tend to be darker, so I rubbed it back more thoroughly there, and I used a small brush to remove excess.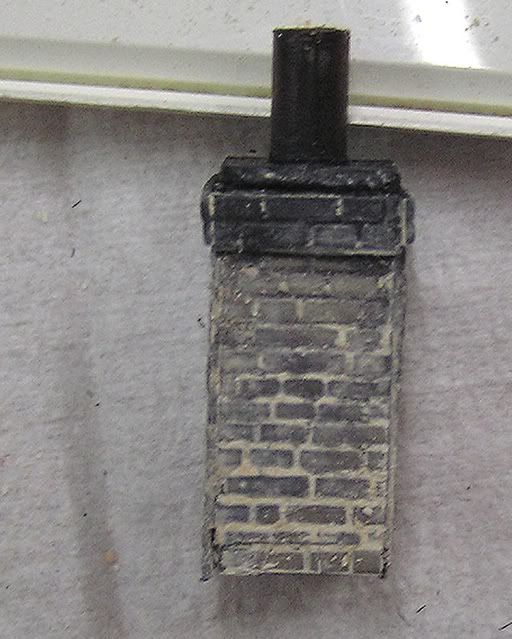 Loose crumbs were brushed away, then the magic spray was used - artists fixative. It must be sprayed from a distance or it blasts the pastel dust away, as I found out to my dismay. Keep it about 12ins away from your work, and lay your work flat. I had to do the four sides one at a time. If it DOES remove the dust, you can quickly add more dust to the wet spray. It dries fast with a matt finish. Follow safety directions, including avoiding breathing the vapours etc.



The pastel dust is now fairly well anchored, but it should be handled as little as possible. It can always be renewed, of course.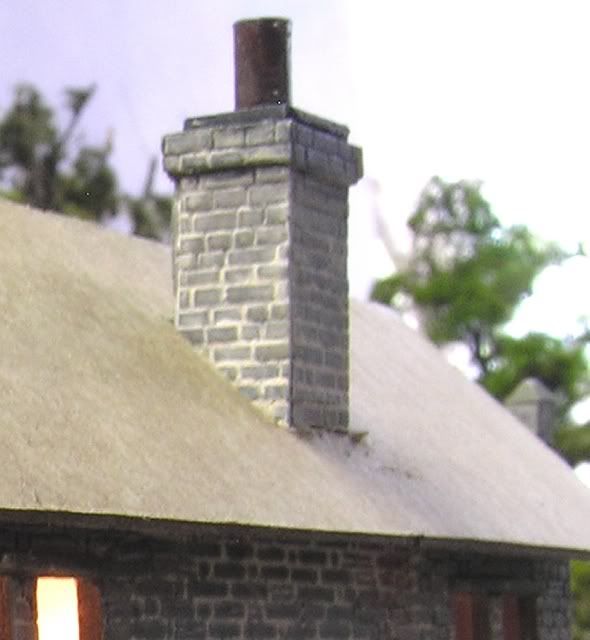 As I said, my walls were done exactly the same way, with the same colours. When I painted the walls I worked at getting them more blue-black down low than they are up higher, where a touch more of the red oxide + black colour is apparent.



The fixative spray will frost your glazing

I used it before adding the glazing. I wouldn't be surprised if cheap hairspray would work just as well, but I'm all out of it
Dullcote would do the job too, but it also frosts glazing.

I hope that illustrates what I did. If I left any gaps, please let me know.

Mike