Robert
Deceased Member

My photos:
view photos in Gallery
view photos as slides
I decided to fix the roof trusses to the walls, as per the prototype. It seemed more logical! :?

A small 'wall plate'; a tiny rectangle of plastikard, was added to each end of the main cross-beams. As these beams were made of hollow square-section tube there wouldn't be sufficient surface area for the glue to get hold of - it would make for an inherently weak joint. A small 'plate' can be seen on the prototype, albeit of a slightly different shape, but I claim modeller's licence! :wink:




As the roof trusses were set in place, they were located at the logical points; where the wall piers give added support.

Each one was glued using tube glue for strength, then checked for alignment in the vertical plane with a carpenter's square,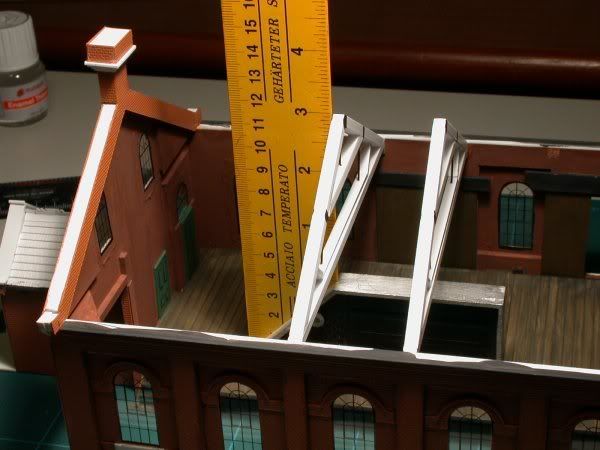 Each one was allowed setting time before the next was added. (This gave me time to get on with the domestic decorating - painting the walls of the room opposite.
)

All five have been fixed and will now be allowed to dry thoroughly before any stress is placed on them by adding the roof.




As one can imagine, adding these trusses has firmed the whole building up considerably.

Perry


I don't intend including too much detail of the inside of the roof as it will be too dark to see under normal circumstances, and will be 'behind the lights' when it is lit - so it would still be almost impossible to see. I think a point has be reached when a modeller says "enough", and I think the interior is reaching that stage. The crane and the lighting still has to go in, of course.

I may include some longitundinal stringers, but it depends how it will affect the fit of the roof itself.

It's a bit of a shame that the roof won't be removeable so that detail inside can be displayed, but I feel it's too 'gimicky'. A peek through the dors and windows is all that's going to be possible. (But I'll know the detail is there! :wink: :D ) And before anyone suggests it (Phill?
) I know I am perfectly capable of making the roof removeable; I just don't want to. So there!
:wink:


By the way, a little update on the lighting; the white LED's I chose for the job are currently out of stock at my local branch of Maplins so that phase of the build may have to wait a while. :( I wonder how it would look with yellow lighting.....?

Perry



Wayne Williams wrote:Perry, If you put LED's inside a building, do you have to have access to the LED's for any reason? Or are they totally maintenance free and future access is not needed. Not trying to convince you to make the roof removable
but what if say someone who doesn't exactly know what he or she is doing places too much voltage to the LED, and burnt it out, wouldn't it be very bad if there was no access?

Wayne

It would be bad, Wayne.
The workers in the shed would have to work in the dark!


But if LED's are installed using the correct value of current-limiting resistor for a chosen supply voltage, then they should be maintenance free and should last for years. They are far less likely to need replacing than grain of wheat or other filament-type bulbs.

I will go into how to calculate the resistor value in detail on here when I do the job, but suffice it to say at this stage that it is a simple mathematical formula that requires three values to be 'plugged in' to it and the result gives the value of the resistor required.

Perry



Marty wrote:Perry,
Would you base your lighting colour on the prototype lighting available for your era modelled.
That is, white LED for fluoro tubes, a weaker, yellowish colour for incandescent or gas lighting?
cheers

That's a very good question, Marty. I had decided initially to use bright white LED's, but I'm now leaning more towards using yellow ones. I think I need to rig a couple up temporarily just to see what the different effects are. I have a suspicion that yellow is going to look more 'atmospheric', particularly if I adjust the resistor values to take the brightness down a touch. I'll post the results of the tests on here when I manage to get some white LED's - hopefully later this week.

Perry



____________________
The time in Spain is :


Barchester