Robert
Deceased Member

My photos:
view photos in Gallery
view photos as slides
Somehow we have lost the original, presumably to our recent virus attack so I am doing my best here to rescue the bulk of it.

The East Anglian Railway Museum, near Colchester, Essex, has a beautifully restored Great Eastern Goods Shed as one of it's main buildings.

I wanted to feature a decent-sized goods shed on my layout and thought that this one would fit the available space nicely.

Here is a photo of the prototype:




At the time I visited the museum, I took lots of photographs of the Goods Shed from as many angles as I could. I also measured a single brick, together with it's share of the mortar. This turned out to be 9" x 3" which in 'OO' scale; 4mm=1ft, is 3mm x 1mm. I was therefore able to draw up reasonably accurate plans by counting the bricks on the photos.

This having been done, I made a cardboard mock-up, just to make sure it would fit onto the layout.




Here it is with a Superquick Goods Shed kit, just to give an idea of the size: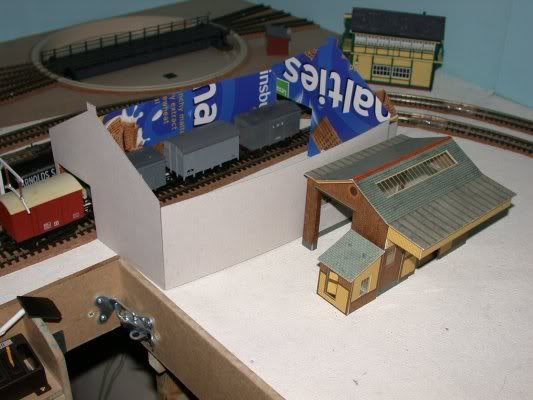 The model will be built from embossed Plastikard and because the prototype was built using English bond brickwork, some suitable stock was purchased from Slater's.

Work has now begun and the four main walls have been cut out. Each will now have layers of plastikard built up to give the relief effect evident on the prototype. I will post some photographs as work progresses.

The end of the shed furthest from the office was tackled first. This is what I am trying to achieve:




The door opening, triangular recesses and window openings were cut out from what I termed the 'base layer' of embossed plastikard. There will be layers either side of this to give the required depth of relief to the brickwork.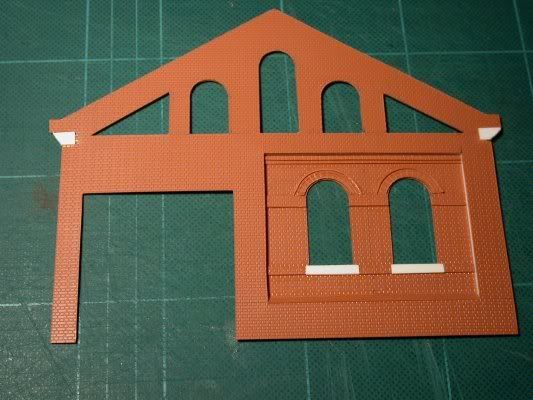 It quickly became evident that the 15 thou thickness of the embossed plastikard wouldn't give enough depth, so strips of 40 thou x 80 thou plain plastikard were glued edge-on around the lower window panel. The two lower windows were cut out and the panel glued behind the base layer.

I used a 'Jakar' Compass Cutter, £2.75p from a local craft shop, to cut the curved tops of the windows.

Plain 040" white plastikard was used for the windowsills and the various stringer courses were added.

The 3-course arches over the top of the windows were marked out on the back of some scrap material then cut out using the Compass Cutter.

Glazing will be done towards the end of the project.

The lower window panel construction is complete and will be left to dry thoroughly before the top windows and panels are tackled.




To be continued.

Perry



____________________
The time in Spain is :


Barchester