rector
Now where did I put that...?

| | |
| --- | --- |
| Joined: | Sat Oct 13th, 2007 |
| Location: | New York USA |
| Posts: | 3952 |
| Status: | Offline |
My photos:
view photos in Gallery
view photos as slides
This was first posted on the previous forum in May 2007, describing the creation of a small, rural pond on the old Wenchoster layout.

The area of the pond had been previously decided, and had been left unpainted in the centre of the layout. It was time to start digging!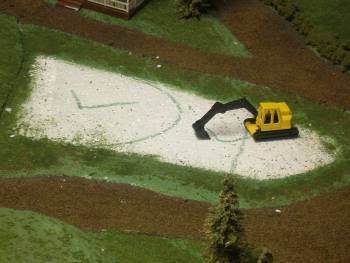 Removing the 2cm thick foam was easy, cutting down with a small serrated knife blade. I wasn't too concerned about the accuracy of the pond's outline or the smoothness of the edges, reminding myself that this was a farm pond and not a swimming pool!




The next, and all important, step was adding the base colour to the bottom of the pond. Getting this right makes a big difference. Pond waters are never blue, so to be realistic I had to create a green-based 'yuck.' I mixed various acrylics including burnt umber, dark green and grey to create a soup. Four coats of this were painted on, and I made sure that each coat was totally dry (and not just to the touch) before applying the next one. (Sadly this photo doesn't do the colour justice)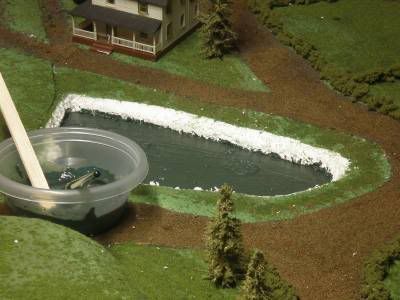 To create the water effect there are many commercially-made products out there, but I decided to use clear marine varnish. The one I chose was low vapour – a good idea if you are modeling in a confined space such as a basement or attic.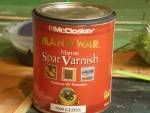 This part of the process was slow. To create a depth effect multiple coats are necessary. I liberally brushed the varnish across the pond, and then allowed each coat to dry for 24 hours before applying the next one. I has happy after the fourth coat, but aware that four days had passed! Best to have other projects on the go …




Once happy with my water it was time to start on the banks. Sealing them with brushed PVA glue is a good way to start (thanks, Perry!) Once dry they can be painted. I chose an acrylic medium brown, taking care not to apply too much at once and running down onto the water. Two coats were enough.




When this paint had dried I then painted the banks with white glue and carefully applied the earthy ground cover. I used a commercially-made cover made by Walthers Inc.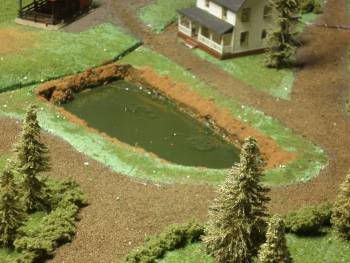 I allowed all this to thoroughly dry for a few hours, and then started to add the vegetation. I glued various shades of reindeer moss/lichen using dabs of white glue, making sure that some of the growth trailed down towards the water.




Then added a few trees. These ones are an assortment of smaller, Woodland Scenics trees which simply push into the foam scenery.




And that was it. A small pond (my first water feature) but easy to make and very satisfying to look at. When I came to dismantle the layout it was the most difficult bit to destroy! (Also the water came away from the baseboard in one solid piece. Now that's varnish!)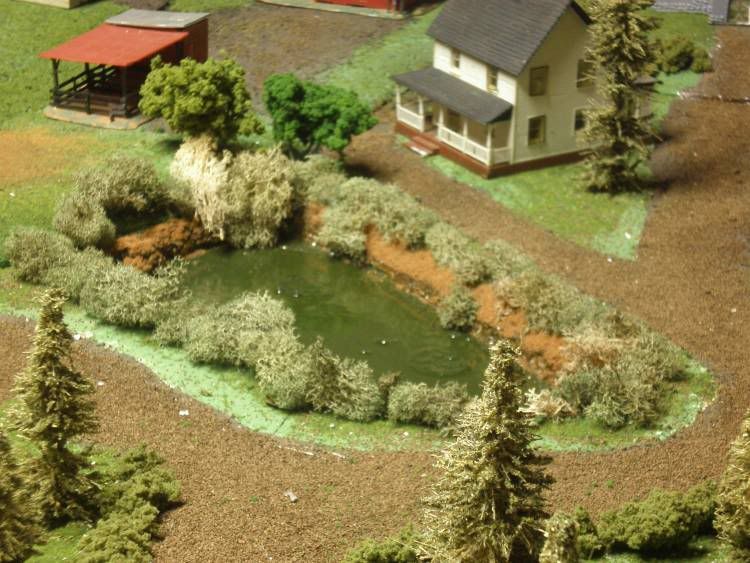 ____________________
Tim. Cleric and artist, finding his railway modelling stuff after too long in the wilderness.