Robert
Deceased Member

My photos:
view photos in Gallery
view photos as slides
Yet another project for Barchester and this time quite a simple one of easy measuring and plain cutting of our card. These are stables for Jones the Coal's horses. Although the days of coal drops by rail to Barchester, as a commercial proposition, have now finished, Jones the Coal has signed up with the Barchester Railway Preservation Society to continue his work as part of their program for the tourists and railway fans that flock to Barchester every weekend.

Now for the model. As you can see one part is well on the way to completion and the construction is almost self explanatory in the photograph. If I had known during it's building that it would be on display here I would have taken more photographs. The almost completed stable, which is not very clear, is a simple oblong box with a corrugated packing card roof coloured as required. The rear and side walls have been scribed for planking and then stained with colron dye. The front wall has two openings for stable doors and the doors are constructed from the pieces that have been cut out from the front wall, scribed again for timber and with cross braces added. Mounting them open or closed is the choice of the modeller.

The stable in the foreground has rear and side walls from plain card, cut and scribed as above then glued to the dimensions of whatever scale you are working in. The roof is simple corrugated card available from many stationers while the wooden framework for the front of the stables is made from BBQ matches. These are larger than normal and ideal for the scale I am using which is 4mm. The side bars are toothpicks. Smaller matchsticks for smaller scales and kebab sticks for 7mm.

Two types of card fencing will be used on this model and you can see them both in the picture, one white lineside type and the other of the planked garden variety. Both types are easily and quickly made and there are posts on both methods in the Lineside section. Model horses are also available from most model shops in whatever scale you are working in. The bundle of straw, which has yet to be cut up into much finer pieces, has come from the material that they use here in Spain for cleaning off fancy tiles after grouting. I believe the same material is used in the UK by plumbers for wiping off soldered joints but I'm not 100% sure on that.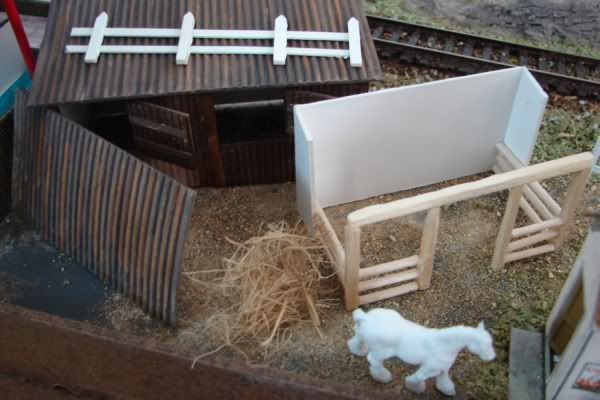 More to follow....

____________________
The time in Spain is :


Barchester