rjr
Former Member



| | |
| --- | --- |
| Joined: | |
| Location: | |
| Posts: | |
| Status: | Offline |
My photos:
view photos in Gallery
view photos as slides
Never one to give up some more head scratching, then I realised when I fitted the new wheels it caused the deck to sit higher and so the centre support ring didnt support the table. So I cut out the centre support from of the baseboard and glued it back in with plasticard underneath.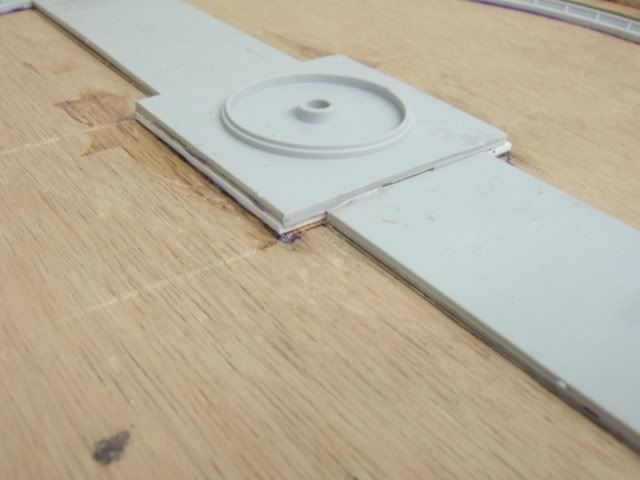 The table could now only sink about 1/2mm in the middle, try again.... Still didnt work. Table still sunk to much at the feed end when the mighty loco edged on.
Then I realised if i got the loco all the way on the ends settled back out again.... Mmm.

Finally I glued a piece of plasticard under the deck directly over the metal guide rail but so under no load condidtions it sat about 1/4mm above and clear of the rail.




Success !!! When the hulk edged on now, the table could physically only drop untill the plasticard packer under the table hits the rail (1/4mm) Once the loco is centred on the table the weight is balanced and the packer raises back of the rail a touch!!!!!




End result all the modifications have made improvements, but the packer helped the most, not only does it hold the table in balance whilst being loaded but an unexpected bonus is it acts as a brake, stopping the TT rotating whilst loading, releasing automatically when the loco is fully on
It may wear over time if it rubs on the rail top but it can easily be replaced.

The moral of the tale, never underestimate the weight of an On30 loco !!!