Wayne Williams
Member

| | |
| --- | --- |
| Joined: | Mon Oct 15th, 2007 |
| Location: | Hudson, Florida USA |
| Posts: | 2635 |
| Status: | Offline |
My photos:
view photos in Gallery
view photos as slides
I for one, am enjoying this build. I have been looking forward to doing this, and hesitant at the same time. The roof line on this house is enough to scare the x-acto knife right out of your hand.

I can say this though, it's all in my mind. By doing what I know how to do first, the rest seems to be falling in place.
That said, the hip roof over their kitchen (north side of house, or backyard view) has been a challenge. I spent most of the morning today and only installed 6 pieces, as shown in this first picture. The truss running on a 45 degree angle has been made three times this morning. Just could not get it right until the third try.

The gap you can see below the porch trusses is intentional. The porch roof (ceiling of the porch) has warped some. It's hard to see in this picture, but it is bowing down as it goes to the corner. As it goes from that corner towards the front of the house (left in the picture) it is actually bowed up some. I'll have to cross that bridge when I get there. I'm hoping that with those four trusses spaced up from the ceiling, when I finally do glue them in place they will hold up the ceiling of the porch. If it doesn't I'll always thought it should have.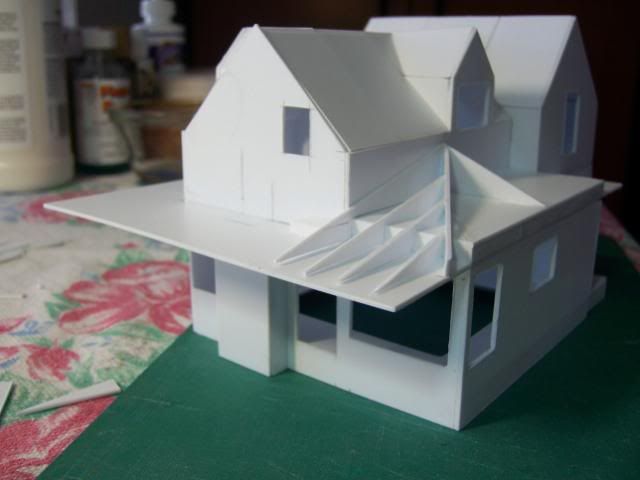 In this picture you can see where I have to add a vertical extension to the height of the wall. When I made the decision to slice the house at the ceiling of the porch, it shortened the height of the kitchen. So by adding this extension all is well again. It will not show once the exterior siding is in place.

The upstairs has been glued in place now. I had to in order to build the hip roof over the kitchen. I really hesitated in doing this as I really did not want to, but I could not come up with an alternative. So out came the glue and it's done. Never to be spoke of again! (I hope)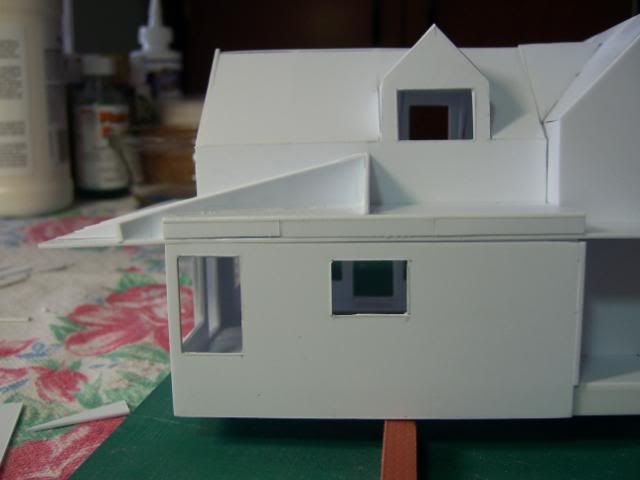 More progress on the hip roof over the kitchen. It seems that once I had that first 45 degree corner truss figured out, the rest of them went quite smoothly.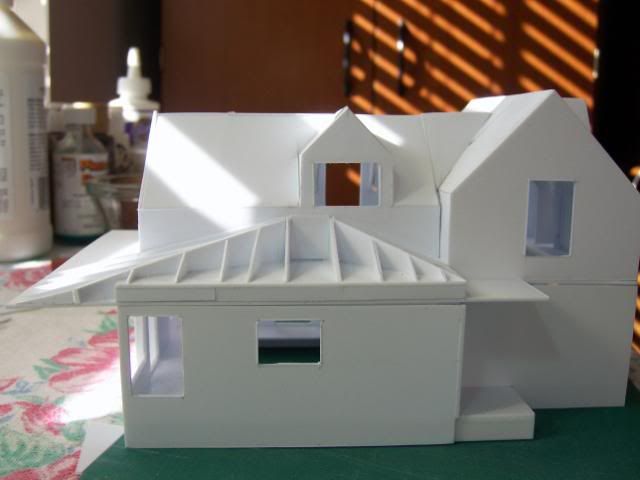 A little different view that shows the trusses better. Wait till you see how that left corner of the porch roof gets finished. That thing is a naughtyword! It was while building the actual roof too.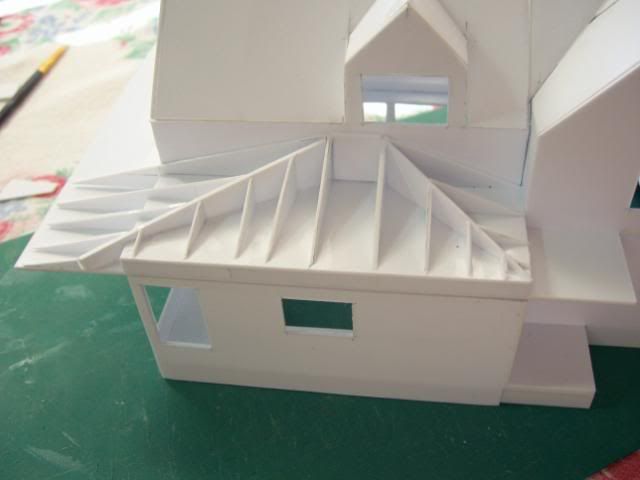 While trying to get the hip roof figured out I found a mistake on my drawing. The mud room, not yet shown, is located incorrectly in relation to the kitchen. I found another picture that actually proved that my model was right and the drawing was wrong. I guess if your going to hit a bad shot, it's always best if it goes in the right direction!


Wayne

____________________
My Layout "The South Shore Line":
http://yourmodelrailway.net/view_topic.php?id=509&forum_id=21