Chubber
Casseroled Badger

My photos:
view photos in Gallery
view photos as slides
I use watercolours to weather, preferring to use the little blocks called 'half pans' for convenience. I think acrylics are often too dense and stain card almost immediately so that any mistakes are hard to rectify. I keep them for painting individual oblects from scratch. The effect I try to achieve on printed card models with the watercolour is known to proper watercolour painters as 'glazing', i.e. giving an already established coloured surface [your printed card model] a thin overcoat of paint through which the original colour and detail can show.

Remember, a true clean colour will show up in a most 'unscale' way, especially white, black and blues.

Most of the colours I use are called 'sedimenting' earth colours as opposed to 'staining' colours. Any reputable art shop will help you with your choice, or Windsor and Newton do a chart showing which are non-staining. The point is that you can mix up non-staining colours, wipe on quickly with a soft brush and still wipe off quickly if it's not right.

'Naples Yellow' is heavily sedimenting colour with good covering power I use for dulling down card models. It does the job beautifully, much like the plastic card chaps use an air brush with a light grime colour. The most important thing to remember is only wipe once/twice with a soft brush and allow to dry between coats. Mixed with a little 'Chinese White' it can be swiftly brushed in streaks over a slate roof to imitate lime washing down from ridge tile mortar, or to copy the streaks of white seen on brick walls when the chemicals in the mortar leach out.

'Davy's Grey' is a pale, very permenant colour which tones down bright whites, or, any other colour.

'Ivory Black' can be used well diluted to indicate water stains that form below window sills and the like. It is not as intense as Lamp Black.

'Sepia' will tint lolly sticks and balsa the colour of old wood colour, and 'Burnt Umber' and 'Indian Red' are brown, brick-like colours.

'Payne's Grey' is a useful colour, but does stain as it has blue in it, though combined with a strong mix of Naples Yellow it gives a very fine impression of the green algae that forms on buildings subject to constant wetness from leaking pipes or gutters, or the line of green that forms between pavements and walls in shaded places, or on the shadow sideof a chimney crook. The mixture can usefully be emplyed to colour bits of lichen, etc.. On it's own, it adds a good shadow, but needs careful use.

Texture can be added by carefully(new blade) cutting out the very top layer of the card in small brick areas and touching up with appropriate colours. The little bits you cut out can be stuck back somewhere else to be 'sticky-out' bits.

Cut the top layer of paper on the lower and side edges of some tiles/slates and tease them up a little to imitte a loose or slipping tile or slate.

Just look at buildings in grimy places and copy the runs of dirt.water etc.

While your at the art shop, buy a waterproof black ink 0.5mm felt tip to make 'gaps' between odd tiles and ridge tiles, and, this is a goody...draw a fine line under any protruding horizontal element that would throw a shadow at midday, for example the notice board and signs below or around your cut out bricks, cut out tiles etc to show where the water has got in and attracted dirt. A similar line drawn along the bottom of a door, as below, also reinforces the impression that it opens, and is not fixed to the floor/step below it.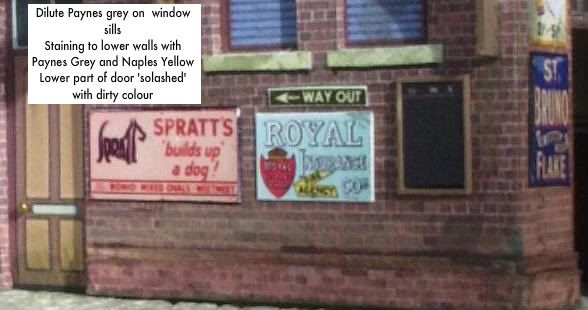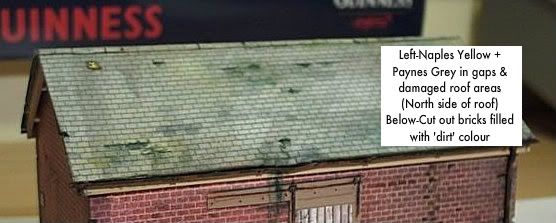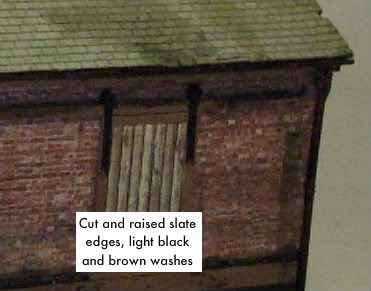 ____________________
'You may share the labours of the great, but you will not share the spoil...' Aesop's Fables

"Beer is proof that God loves us and wants us to be happy" - Benjamin Franklin