Chubber
Member

| | |
| --- | --- |
| Joined: | Thu Oct 2nd, 2008 |
| Location: | Riberac, France |
| Posts: | 4028 |
| Status: | Offline |
My photos:
view photos in Gallery
view photos as slides
See

http://yourmodelrailway.net/view_topic.php?id=12881&forum_id=21&jump_to=227469#p227469

[Post 14]

I HAD HOPED TO MAKE A REPLY TO A MARTYS QUESTION IN 'NEW END Post 14' BUT ENDED UP BUMPING THIS WHOLE TOPIC
.

Like several other members, I have decided to make my base boards in sections, in my case 4 off, 4ftx1ft-8". I've used a 4mm 'I' beam frame overlaid by ply, but for ages, I've been pondering a low cost, low tech equivalent to those expensive dowels used by some here...........as SWMBO works on the principle that '£X spent on modelling= 2 x £X spent on clothes, shoes, and luxuries like food' etc...

I only want reliable alignment for the occasional disassembly/reassembly, not a hard wearing device suitable for the exhibition circuit, so, after 2 years, a brain-wave.

Copper pipe here in France is supplied in 10, 12, 14, 16mm sizes, which all fit precisely inside each other, indeed, to make a 14 to 12 reduction, there is no need to buy a purpose made adaptor, it is sufficient to insert one into the other...still with me?

In UK, or elsewhere, probably, the same relationship would exist between, say, a piece of 15mm pipe, and a plain connector.

I took a short piece of 16mm pipe long enough to bridge two adjacent boards, cut it in half, and soldered one piece to a length of 14mm [see photo 1]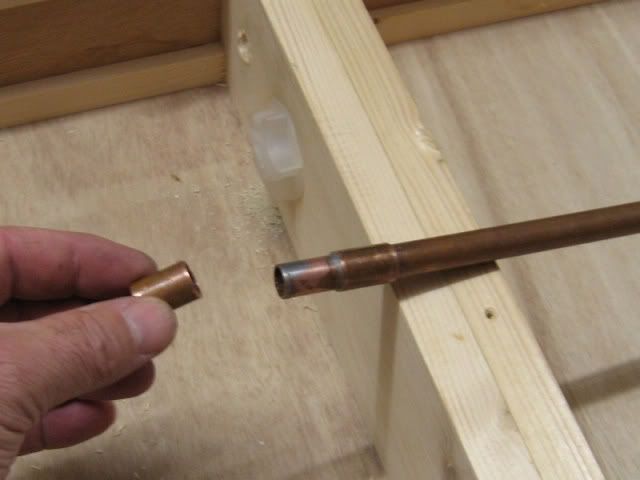 Then I slid the loose piece over the 14mm pipe to lie alongside the soldered piece, cut the whole free from the 14 mm pipe and tapped it into a tight fitting hole drilled squarely through both halves of the boards which were tightly clamped in alignment.

Before doing so, I smeared the inside of the hole with PVA, and roughened the outside of the 16mm pipe with a hacksaw blade. [See photo 2}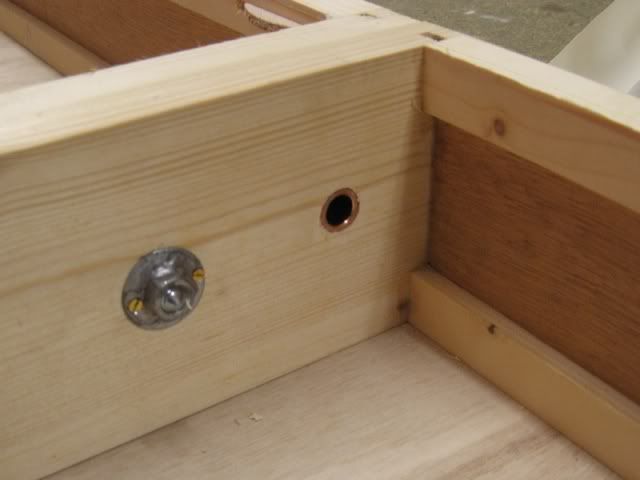 After several hours, I was able to separate the boards, leaving the soldered 16/14mm piece in one board, and the second piece of 16mm in the other board. [See picture 3]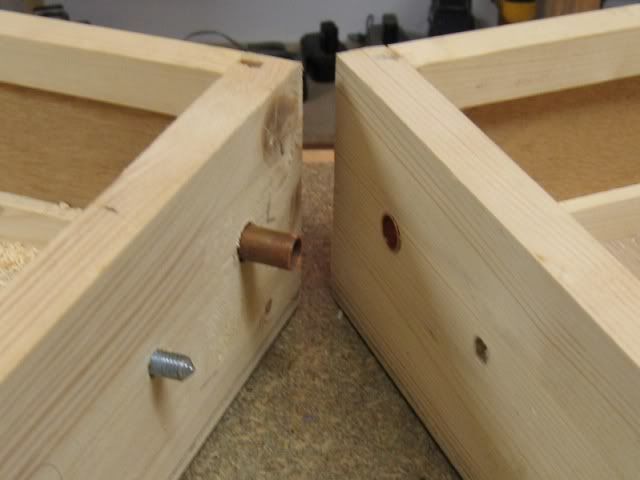 You may have noticed [Picture 1] that to hold adjacent boards together, I have used some of the screw fittings used to secure head boards to beds, having scrounged a few from a furniture store in UK. In case you are not as brass-necked as me, I have included a picture of an alternative home-made thumbscrew, soft soldered from a penny washer and a bolt after cutting a groove in the head with a hacksaw. They other ends screw into a suitable nut, soft soldered to a washer, drilled for mounting screws.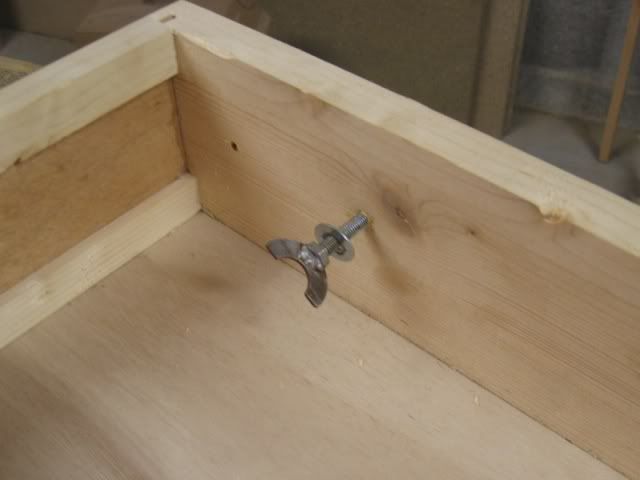 I hope this helps someone, and avoids the need to buy so many compensatory Marks and Spencers vouchers for SWMBO [or HWMBO...]



____________________
'You may share the labours of the great, but you will not share the spoil...' Aesop's Fables

Now I know why God kept messing about after making Emmylou Harris....he was trying to make a Alison Balsom.