Perth Buddy
Former Member



| | |
| --- | --- |
| Joined: | |
| Location: | |
| Posts: | |
| Status: | Offline |
My photos:
view photos in Gallery
view photos as slides
I thought it was an excellent show, reasonably priced and with a free show guide which gave a description of each of the layouts on show. Some big layouts and some with a different twist. A number of trade stands but really wasn't too fussed about them although my son bought me a couple of BRM books (Scenic Modelling and Scratch-Built Buildings)for my birthday and I treated myself to a Class 45 Tank.

Anyway enough prattle on with the layouts and I should warn you there are a lot, and I mean a lot of photos but you did ask for them. Oh and by the way if you want more info on any of the layouts more than happy to copy in the preamble from the show guide and please remember I am no photographer and I use a "poiint and shoot" Kodak digital ......

Abbey Road - John Polley - 4mm Scale 00 Gauge .... Modern London Underground model railway layout which was definitely a new one on me. Excellent detail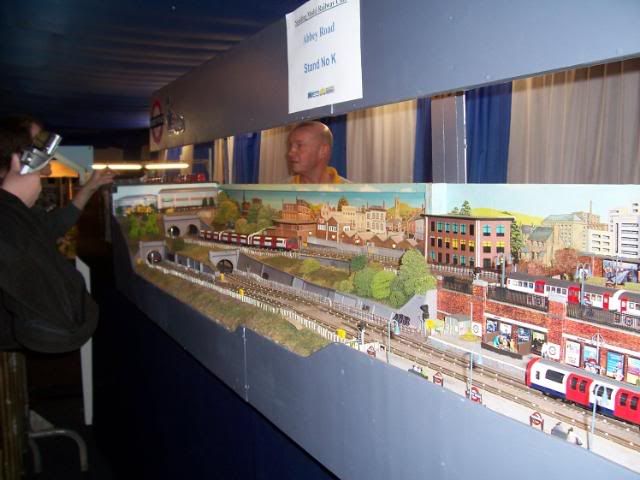 Hayseden - Tony Mortlock - 7mm Scale Narrow Gauge. Layout set on the Monday morning before Christmas 1938. A really charming layout, again with excellent detail and and unusual theme.




Zitrey Town - Jean Morgan - 2mm acale N Gauge. Jean Morgan also designed a small Thomas N Gauge layout which allowed the young kids and not so young kids a go for the princlely sim of 20p which went to club funds. The interesting thing about this layout is that it has a water filled stream which may not show up on the photos. I asked about the safety aspect of electricity and water and the whole layout is made from fibreglass similar to that wich is used in making boats. The water flows doen "the stream" into a pool where it is in turn pumped up to the top of the hill ...... Ingenious !!!!!




Nelson - Pendle Forest MRS - 2mm scale N Gauge. Big layout and failry bust with a lot of detail particularly in the street scenes.




Hadley Green - The Water Lane Group - 4mm scale 00 Gauge. Agian this was a nice layout with some interesting features, particularly liked the coal depot and the large covered pedestrian bridge




Gamston Bank - Stephen Kearns, Geoff Nunn, John Houlden - 4mm scale 00Gauge. Mpdelled on part of the East Coast Mainline. Had long runs and the train in picture was pulling 13 coaches. Good to see long trains runnng but thought the scenery was a little bland (so says someone who has never sceniced anythng !!!!)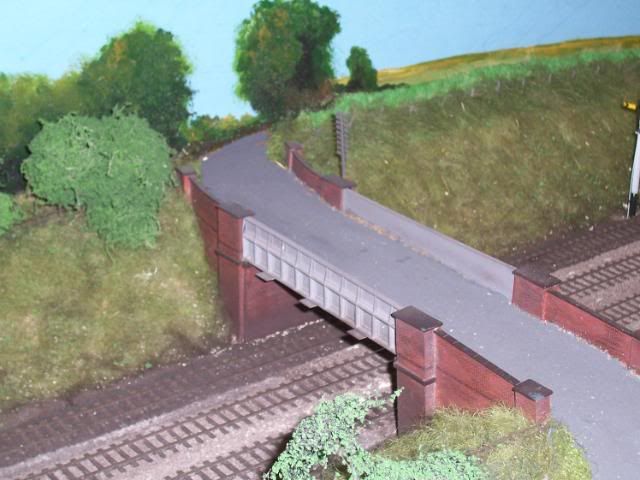 Little Cussin - Graham Smith - 2mm scale N Gauge. Layout is desinged for simplicity in that it can be assembled in about 30 mins and shows how to produce a layout using mainly commercially available items.




Oakhurst - Geoff Stenner - 7mm Scale 0 Gauge. Excellent layout with a working windmill and I would point you in the direction of the Steam Traction engine lokking as it hasn't beenused for sometime.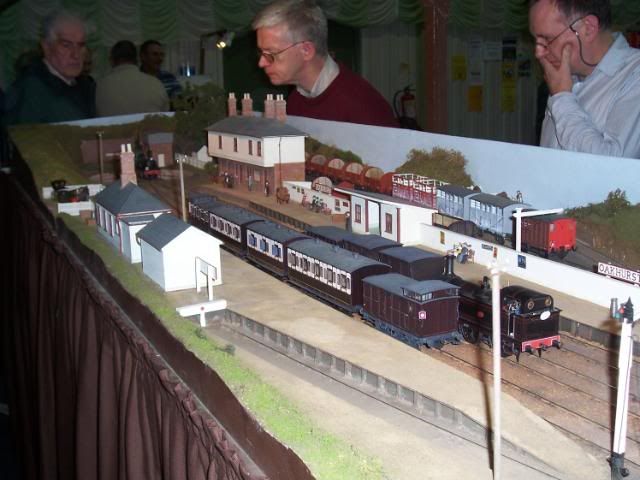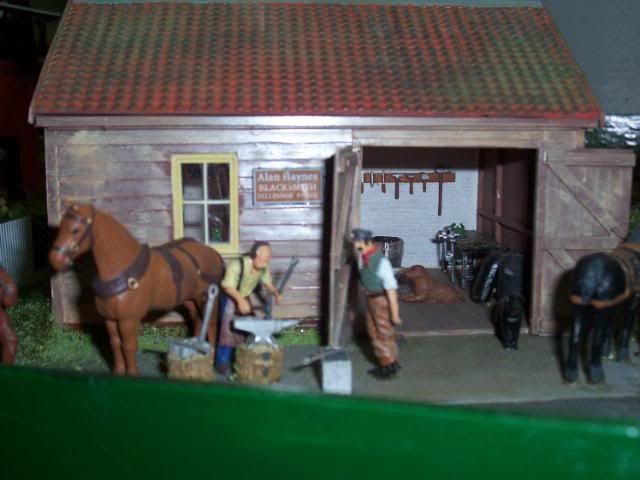 Sellindge - John Smith - 7mm scale 0 gauge. This is a big layout and according to the guys operating is up for sale and that Spalding was to be its last public showing. Would have been great to put in an offer but would have required to rent a small warehouse to house it and that would not have been financially possible after the DIVORCE. Can anyone tell me waht the first picture is ????




Bryngoch - Peter Brackenbury - 2mm Scale 009 Gauge. Cracking little layout based on an old slate mine in North Wales .... are there any Welsh modellers on the forum that this might interest ????




Mohawk Loops - Christopher Brackenbury - 2mm scale N Gauge. One for our American friends. Scenery was too bright for me and a bit "samey" although well made. Some lovely Ameriacn locos and long trains running bug no B & O (Sorry Lawrence but I did ask). Did like the fighting bears though !!!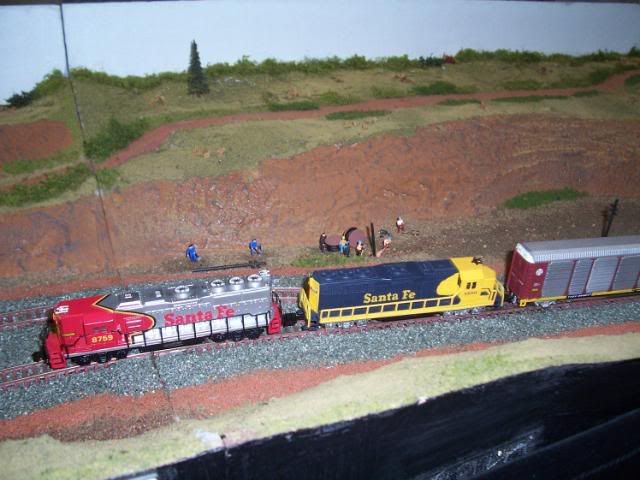 Warmington - Erith MRS - 4mm scale 00 Gauge. Busy modern layout and was impressed with the 4 platform station. Don't know how LMS 6233 got in there but very welcome nonetheless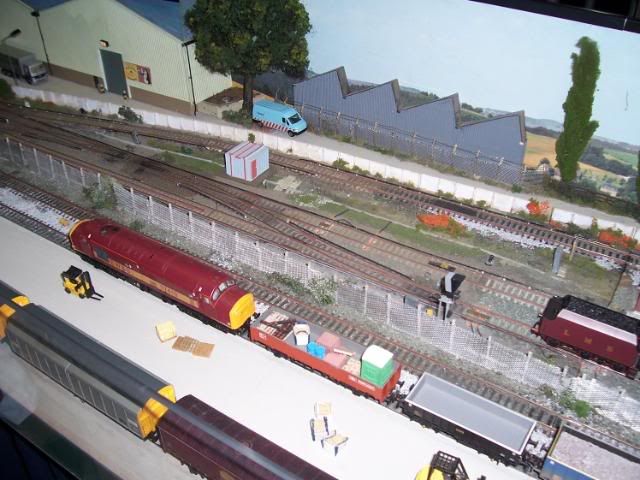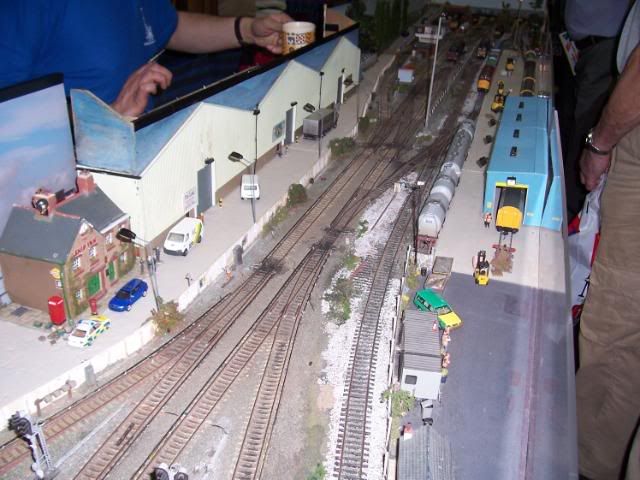 Oakwood - Spalding MRC - 2mm scale N Gauge. This was another children's layout which kids of all ages could get a go at running the layout. Proceeds to local charities. This and the other small layout is a great idea and my two grandchildren spent some time running the trains, courtesy of Grandad's wallet.




Copse Crossing - Bingham MRC - 4mm scale 00 Gauge. This was another pretty big and impressive layout with some consdierable running distances. The bridge over the river was impressive so was the overhead bucket system, fully operational, between the qairry and the riverside.




Bassenthwaite Lake - South Lakeland Railway Modellers, Cumbria - 9mm scale N Gauge (Is this right --it is what is printed in the guide). Impressive layout with a huge lake, not surprising, and they posted a written sheet explaing how they did the water. If anybody is interested I am more than happy to type it into the forum .. may even be worth putting in the index.




Buffalo Rivers - Raven Model Railway Group - On30 scale 1:48 Narrow. I am sure thsi has been shown before but is worth another look. My photos don't do it justice. These guys are up there when it comes to the scenic side of things.


.... Sorry a bit out of focus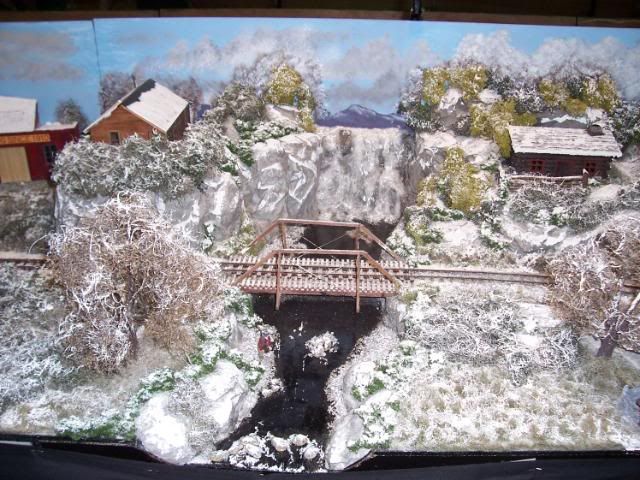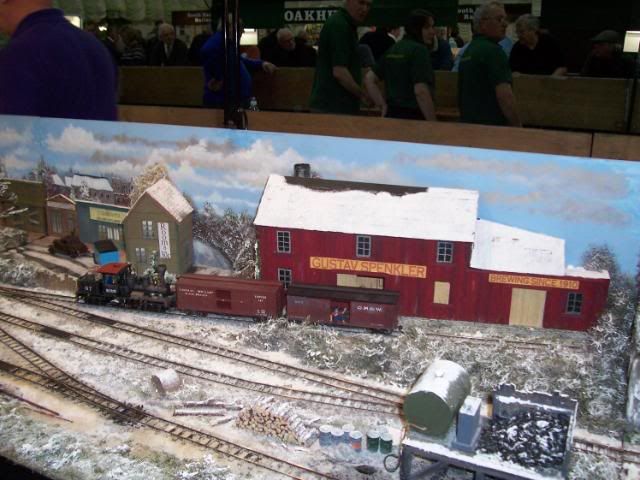 Oakwell Central - David Woodward - 4mm scale EM Gauge. Yet another impressive layout with some wonderful detail.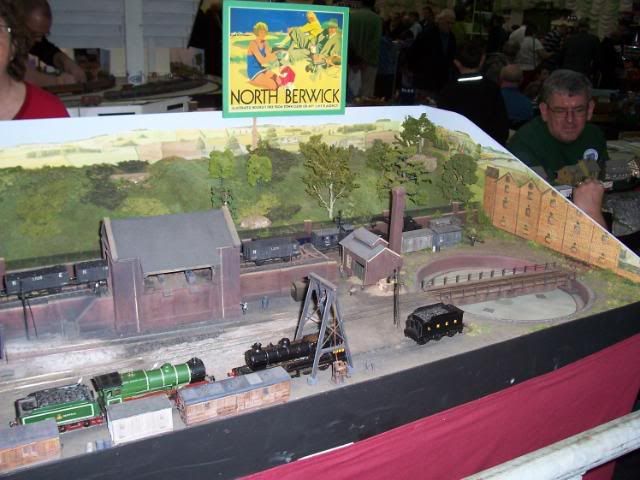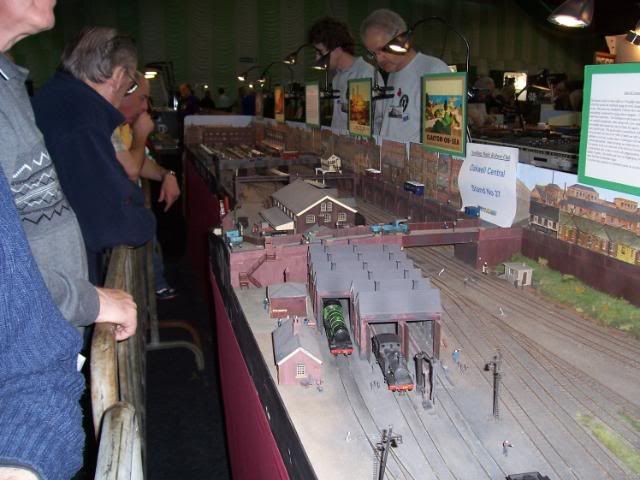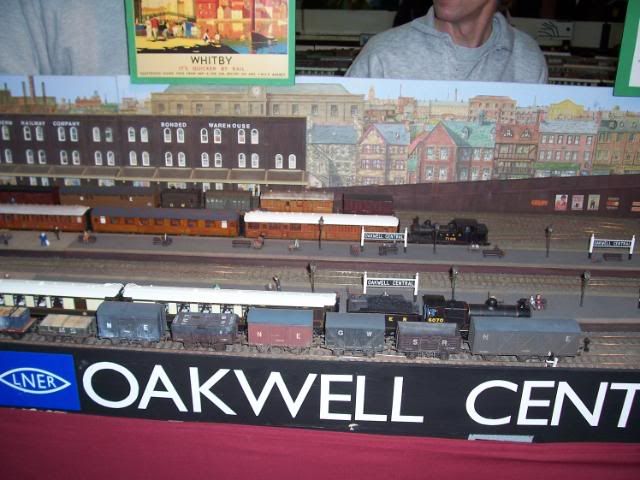 Lenzkirch - Axel Klozenbuecher - HO scale HOe gauge. bsed in the Black Forest and is a delghtful small layout.




Church Fenton - Bob Holt - 4mmscale 00 gauge. This was yet another big layout with lots of detail and plenty trains running. Third photo in ---- what is that .... it was running on the track at a rate of knots and caught the eye.




Magersfontein - Eastbank MRC - 4mm scale HO gauge. Layout set in South Africa and using electric, diedel-electric and steam. Very different from the usual layout and worth lookin at.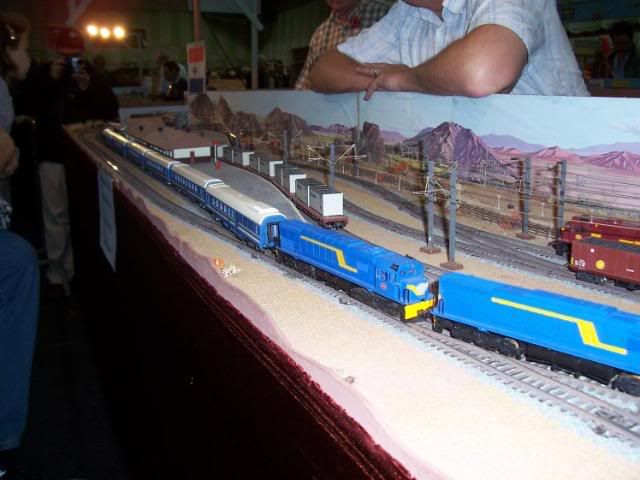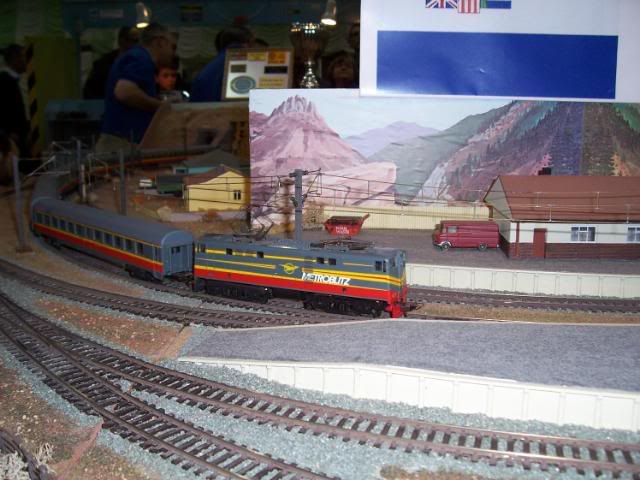 B W Meinecke - Spalding MRC - Based in Germany, the MPD is impressive with all the necessar equiopment available - ash removal, steam cleaning, water tower, overhead crane for lifting of heavy parts and a turntable serviceing a 9 road roundhouse.




I have left my two favourites to the last .....

Walker Falls - The Thistle Modelmakers Society - On30 scale N. American Narrow Guage. This was a fabulous layout, moody yet full of wonderful cameos - guy repairing the bridge with his hammer arm moving, the guy painting the building with his brudh arm moving up and down, the flag rasing and lowering, a fabulous sound track and some fantastic locos - Shays. I think Bob could have stayed there for hours. Again my photos don't do this justice ....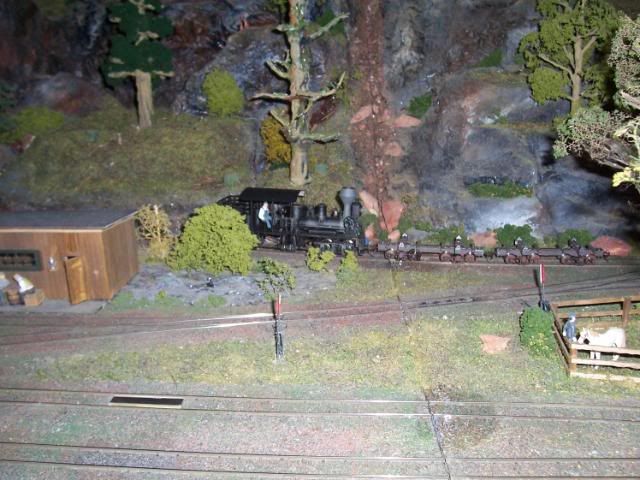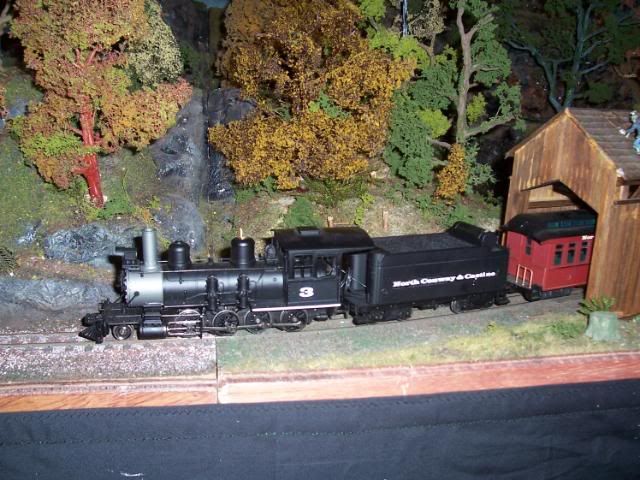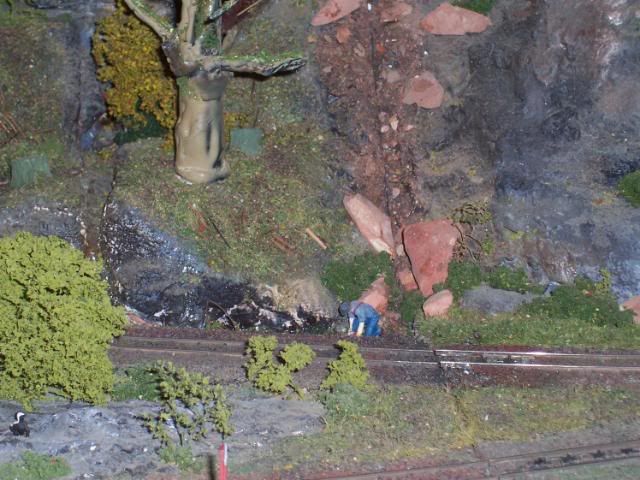 and specially posed ....




In my opinion I have saved the best for last ....

Nettlecombe - John & Jane Jacobs - 4mm scale 9mm. This blew me away and I spent a long time looking at the layout and talking to John Jacobs, a very friendly guy who was only too happy to explain some things. They ake months in the planning and their imagination ... well I cannot put it into words. His modelling skills and those of his wife who is also an artist are of the highest calibre. The blending of the backscenes into the model has to be seen to be believed e.g. the curvature of the modelled fence is carried into the back scene. All his buildings are made from LINKA moulds and then painted and by painted I mean brick by brick, tile by tile giving the subtle difference is shade. My photos do not do this justice and if you ecer get a chance to see their work first hand I would suggest you take it. They have a website http://www.kingstonregis.com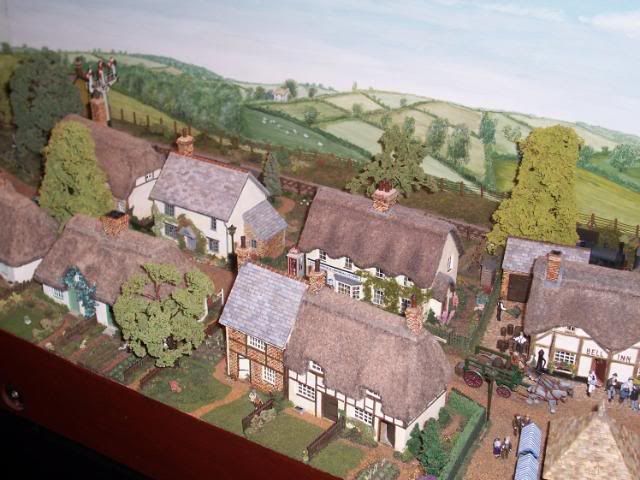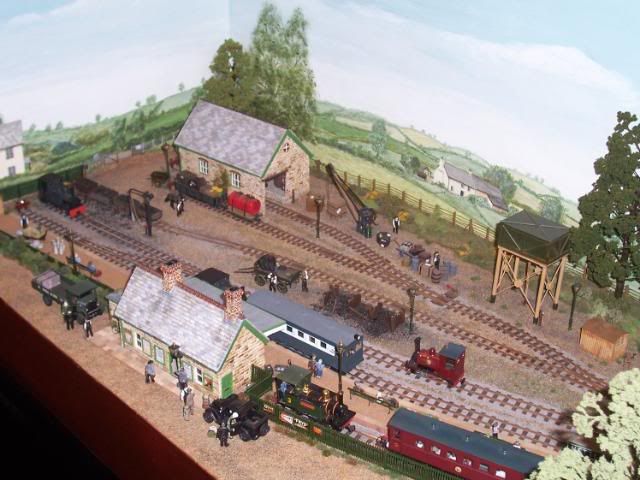 He also explained how he did the thatching ...... Wool stuck onto the roof and then brushed, brushed, combed and trimmed and then painted a suitable colour




And if I maybe allowed to indulge myself, I got taken to a Craft amd Christmas Fair at the East of England Show Ground and this was outside ..... nostalgia in the extreme and fabulous to watch and listen to .....




And SWMBO won't thank me for this one but she had to have a ride alongwith the kids (don't know who enjoyed it the most)....




Hope you fidn something of interest and emjoyment and again apologies for the quality of some of the photos.