Gwent Rail
Former Member



| | |
| --- | --- |
| Joined: | |
| Location: | |
| Posts: | |
| Status: | Offline |
My photos:
view photos in Gallery
view photos as slides
Bob(K), also know as "Novice" has devised a layout using minimum space and low-cost materials known as "Binton". In response to my request for some background info and a possible plan, he posted the following details.

You can see his explaination of how this became reality, by following the link below this introduction:-

I do have a rather scruffy plan. So to set the scene: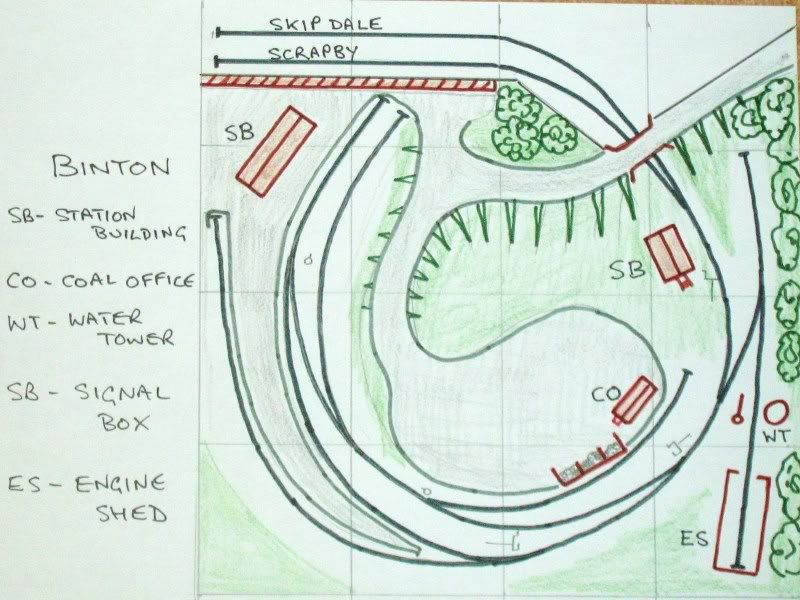 BINTON

Binton is a small market town in East Anglia which was connected to the railways in the late 1800s. The purpose of the line was to provide a route for fresh vegetables and cash crops, which are extensively grown in the surrounding area. In addition coal and other goods are brought in and there is a small coal yard by the station.

The railway is Great Eastern in flavour and Binton is a terminus station from the main line at Skipdale. Some 10 years after the line was laid to Binton, the railway company saw commercial gain by connecting the 10 mile branch out to the growing seaside town of Scrapby, which was booming from an influx of seasonal holidaymakers. Both Skipdale and Scrapby are represented by a twin track fiddle yard.

The setting is the late 1950's and the boom is coming to an end. More and more vegetables are being moved by road and Binton is on the decline. The DMU is beginning to take over from the steam passenger services and coal demand is falling away. The Binton line is becoming non viable and the eye of Dr Beeching will no doubt fall upon it in the near future.

My aim of this project is to produce a small (4x4') layout at minimal cost, but with maximum operating potential. It will be DCC, will have electric operating points and signals and an effective and reliable uncoupling system to allow realistic shunting. So far the only thing I have bought has been glue, but I do have a stock of spare track, timber and paints which I have used. That said, if I had to buy everything so far the cost would have been around £10 for materials - obviously the track and rolling stock would have to be purchased, but you could get away with a DMU and a small tank loco, plus a few wagons.



http://yourmodelrailway.net/view_topic.php?id=2863&forum_id=21

25 October 2008 and Novice has made some alterations and added another plan incorporating the changes. Here's the relevant part of his post :-

here is the final version of the track plan, with a rather scruffy sketch of how the scenery will come together: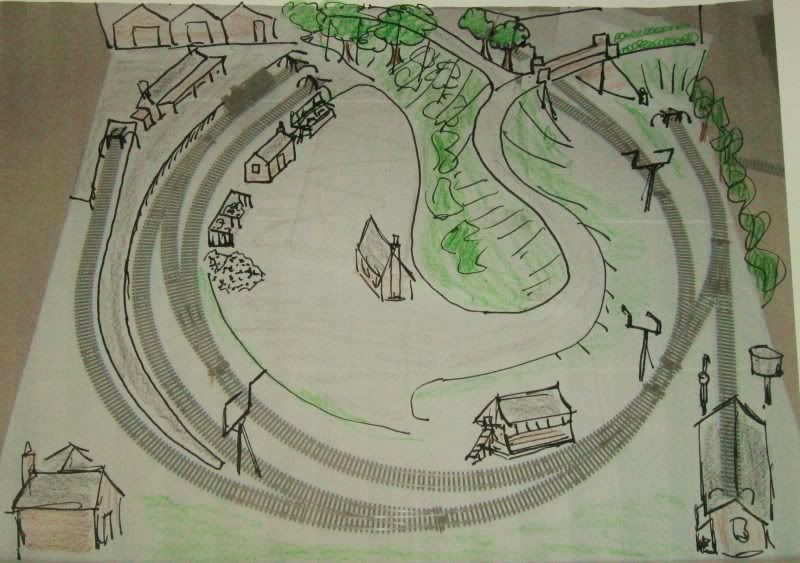 This plan differs from my original idea as the inner siding for the coal yard will not work. So I have moved the coal yard nearer to the station, the signal box has moved down a bit and the approach road to the yard now swings around to the left, instead of the right.