rector
Now where did I put that...?

| | |
| --- | --- |
| Joined: | Sat Oct 13th, 2007 |
| Location: | New York USA |
| Posts: | 3956 |
| Status: | Offline |
My photos:
view photos in Gallery
view photos as slides
Another kit, purchased for very little money on eBay, that I have been working on these past four evenings. Although designed as a rural creamery, this will eventually be the cranberry processing plant - with added tanks and pipes.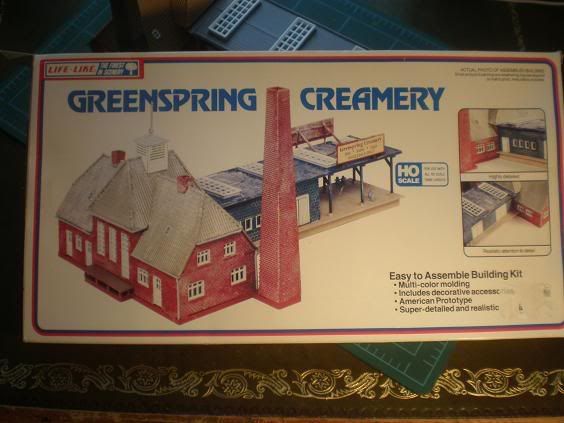 Let me begin by saying that the eBay "blurb" said something like, "Uncertain if all parts are present..." (hence the very low price
) That turned out to be totally wrong, as the kit contained sprues and parts that were either surplus to requirements (three extra windows and glazing) or parts of a completely different kit.


Althougn branded a Life-Like model it was actually made by Heljan, whose name was stamped on all the larger pieces. I was immediately disappointed by (a) the quality of the moulding, and (b) the numbering of the pieces in the instructions. I can't recall having to use the emery board so much in removing surplus plastic, and in many parts of the construction the numbers on the instruction sheet bore no resemblance to the numbers on the pieces or the sprues.


Having said that, once trimmed, sanded and fiddled with the kit was "challenging fun" and looks the part. I haven't added the guttering and down-pipes yet as I intend to paint them before final assembly. Neither have I even started painting and weathering. That, on this and all kits being built, will take plave over a wet and windy weekend sometime. At the moment I am merely finishing the models to place on the layout - giving me an idea of surrounding scenery and position.





____________________
Tim. Cleric and artist, finding his railway modelling stuff after too long in the wilderness.