MikeC
Former Member



| | |
| --- | --- |
| Joined: | |
| Location: | |
| Posts: | |
| Status: | Offline |
My photos:
view photos in Gallery
view photos as slides
ok here's a quick and easy house:

Assuming you have your sky, and maybe a nondescript green hill in front of it, you can easily - yes easily!! - paint a simple, flat-on-to-the-viewer house if you have the right brushes. A quick reminder of my brushes so you can see them on this page.....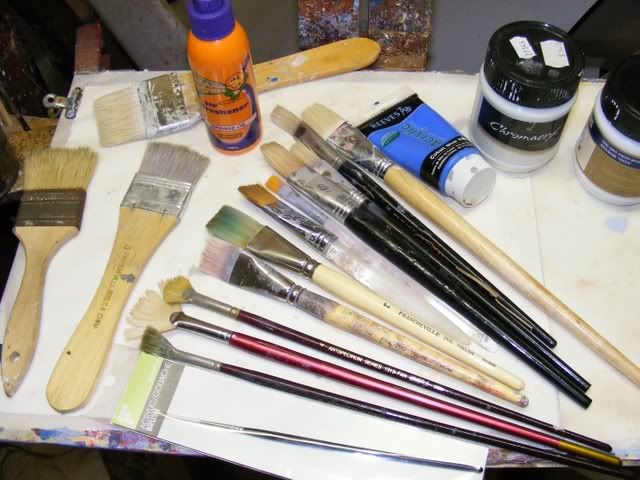 For the house I've used the two flat [and very sharp-edged] that have the orangey-yellow bristles 5th and 6th down from the top [with clear plastic handles]

Take the bigger brush and make a rectangle of appropriate size - you might need to measure up beforehand, but I didn't bother. I think most if not all of us get a feel for building size simply by being hobbyists. I mixed up a creamy colour red yellow white + some blue. It's important your whites aren't too white, or else the house will be too prominent to be a backscene feature. If you're lucky you can leave spaces for windows. With these brushes you can be amazingly precise.



Clean the brush. Mix up some reddish browny grey for a roof [red, green, blue - a bit of this and a bit of that] and brush it across for a roof. Two or three long, continuous sweeps should do it. The paint skipped here and there and I liked it - looked mossy. My roof mix was VERY LOOSELY mixed, so here and there it's a bit blue etc. Don't overmix your paints when doing walls or roofs - the loose mix will aid authenticity no end!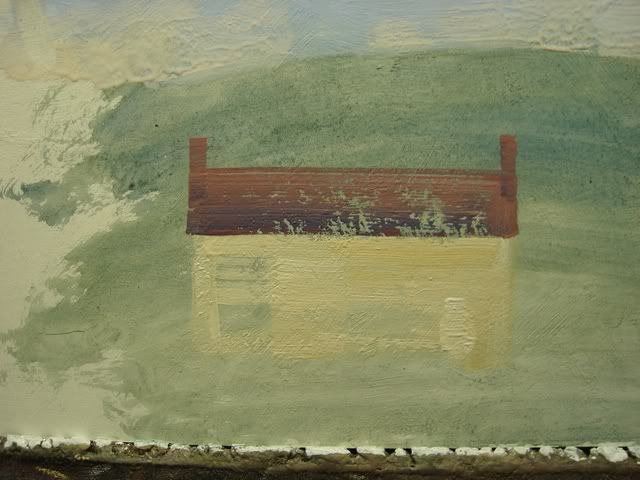 Use the smaller of the two brushes to make chimneys.

Mix up some dark greeny bluey grey - blue, any old tube green plus some red - and add windows with the small brush, after you've washed that brush. Use some gingery roof colour for above the bay window and at the door. I've deliberately left those bits untidy for now, to show how easy it is to fix them up later.
Window frames can be gently scribed in with a brush handle if you like.
Warm, dull grey - a mixture of roofing colour and wall colour - was added with that smaller brush for a shadow under the eaves. Keep this shadow warm, not blue, because shadows on vertical surfaces, and especially enclosed shadows are warmer because the sky has less influence on them.




In the next pic I've added window frames in a not-too-vivid white, using the tiny rigger brush seen at the bottom of the row of brushes.




And here it is with the bay window and doorway tidied up by superimposing wall colour over the ragged edges. A few tiny dark accents were added to liven it up a bit without overdoing it. The building is deliberately "loose".



I might add some creepers at some stage. It's a piece of cake to add another similar house alongside.
More to come.

Miike