Robert
Deceased Member

My photos:
view photos in Gallery
view photos as slides
As soon as diesel locomotives started to appear on Barchester it was decided that a refuelling facility was a must. After much searching on the web it was fairly obvious that none of the examples found were good enough, or big enough for Barchester. The problem was turned over to our inhouse engineers and designers and they came up with this structure which you now see being built.
The platforms, a straightforward card modelling job which will have scribed surfaces, have been laid, the storage fuel tanks rolled from paper and the cross track lattice girderwork, from post cards, has been started. These lattice girders are all cut to shape from the same pattern and then two lengths are glued back to back to give the cross effect. The separate patterns can be seen lying flat on one of the platforms.

Fuel loading pipes from rail tankers need to cross the tracks to reach the storage tanks, hence the lattice girder work.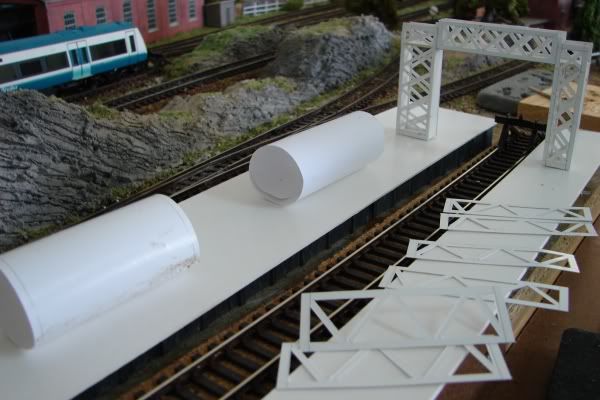 For aesthetic reasons more than anything else the unit has been moved to a different position, it's changed places with the wash unit actually. The over track lattice girders are now in place and can be seen quite clearly as can the scribed and 'dirty washed' platform surfaces.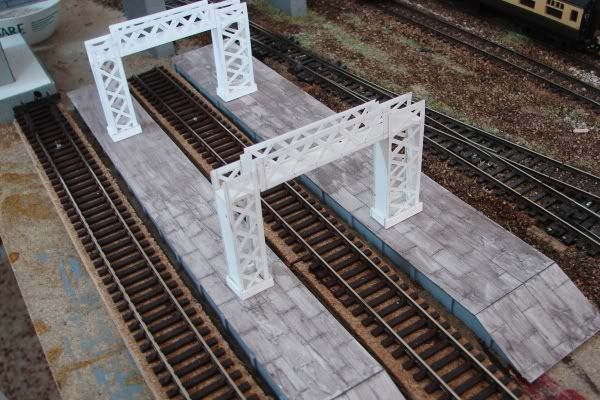 ____________________
The time in Spain is :


Barchester