Bob K
Member

My photos:
view photos in Gallery
view photos as slides
HOW TO PAINT A MILITARY FIGURE

At Matt's request here is a step by step guide to how I painted a soldier in modern DPM camouflage uniform:

PART 1

Equipment:
A standard brush size 0
A fine brush size 003
A small brush (size 0) for dry brushing

Paints:
I used acrylic, a mixture of cheapo tube types(CT), Tamaya (T) and Citadel (C):

Lamp Black (CT)
White (CT)
Buff (T)
NATO Brown (T)
Field Grey (T)
Dwarf Flesh (C)
Burnt Umber (CT)
Sap Green (CT)

I used another WW2 figure from my spares box - beginning to get low on volunteers now
First give the figure a wash in detergent. Allow to dry completely. Then paint the whole figure in the Buff colour: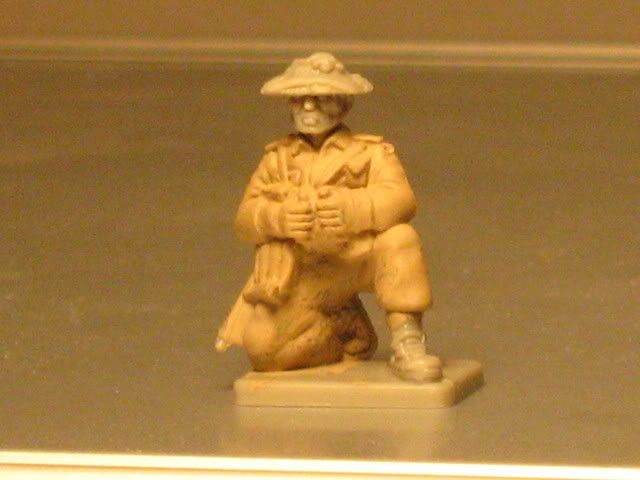 Once dry, and these acrylics dry almost instantly, paint on small curly stripes and blobs of the green. Ensure edges of the figure, under arms and legs are also painted:




Next do the same with the NATO brown, ensuring some of the brown overlays the green:




Next using the CT black and white mix up a very dark grey colour. Paint very thin Y shaped swirls, evenly across the figure. At the same time his weapon, boots and binoculars can be painted:




Finally for this stage, using the Field Grey or a light olive, paint the helmet and all of his web equipment. Look the figure over and touch up any areas that have been missed using the appropriate colours.




In part 2 I will do the flesh, shading and highlighting.

Bob(K)