MikeC
Former Member



| | |
| --- | --- |
| Joined: | |
| Location: | |
| Posts: | |
| Status: | Offline |
My photos:
view photos in Gallery
view photos as slides
These are fun to build because I get to use a power tool :D :D And a vise.
And again, it's not my idea - I've borrowed it from elsewhere online.

Start with a length of wire doubled over to the height you want. Cut some sisal rope strands and roughly separate them out, then insert between the two legs of the wire. Wise modellers will do this outside, because it'll make a mess. Guess where I did mine.
Try to vary the spacings. Lengths can be adjusted with scissors later. Some people recommend masking tape to hold the clumps in place, but I couldn't find any around the house so I made do without it.




Insert the open end into the chuck of your drill, and the looped end into the vise, then slowly wind it up with the drill, to get this: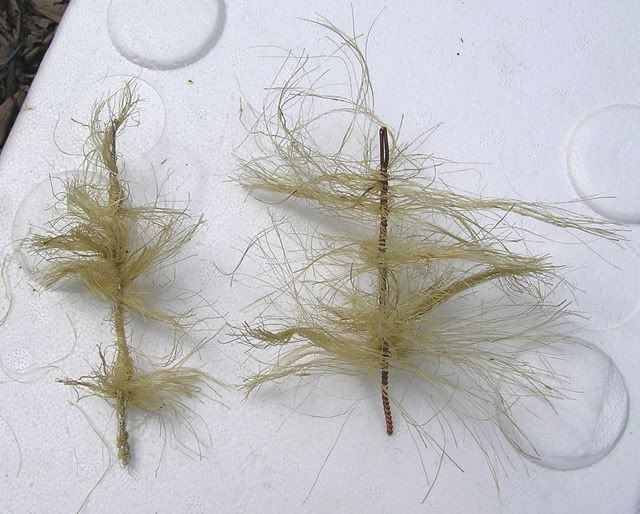 The one on the left has been trimmed afterwards.
It seems the look of the tree will vary according to the amount of twisting you do. If the wire snaps off in the drill, you've overdone it [again!]
The rope fibres constitute the branches of the pine, not the needles, which in our scales would be near impossible to see anyway.

Next step is a bit of DAS on the lower part of the trunk, followed by some paint :D


Mike