Wayne Williams
Member

| | |
| --- | --- |
| Joined: | Mon Oct 15th, 2007 |
| Location: | Hudson, Florida USA |
| Posts: | 2635 |
| Status: | Offline |
My photos:
view photos in Gallery
view photos as slides
I decided after doing some assembly and disassembly of the Dome that I needed some kind of, call it a lock if you will, just a way of aligning and holding the Dome in place on the Silo. After several sketches and throwing most of them in the trash, I came up with this.

The disk is a snug fit into the inside of the Silo. It's almost impossible to see in this picture, but I sanded the edge to a bevel, which helps it to enter into the Silo. Keep in mind that the diameter of the Silo is not perfectly round, however this disk is as round as I can make it. So when it goes in it has to reshape the Silo into a better circle. It also, as it goes down into the Silo acts as a lock to hold the Dome in place. I can now hold it upside down and even shake and it stays in place. :smile: :smile: :smile: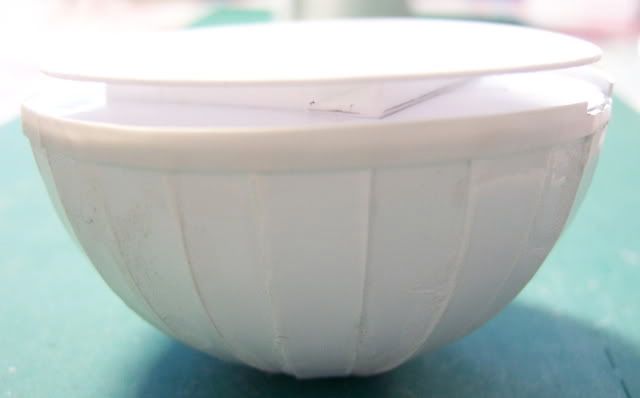 After that little project I turned my efforts to attaching the rib covers. Now I know that these little buggers are small, but wow, are these things ever Small. You can tell from this photo that I have not learned how to use the solvent neatly. In fact I had to be very careful and work on opposite sides of the Dome from one Rib to the next. The solvent was weakening the .005 thick Skin of the Dome. In one spot I actually thought it was going to eat a hole right through it. Luckily it did not. At that point was when I started working from one side to the other to let the solvent cure longer before working next to it again.

I really hope the painting will hide the rough surface of the Dome, guess only time will tell.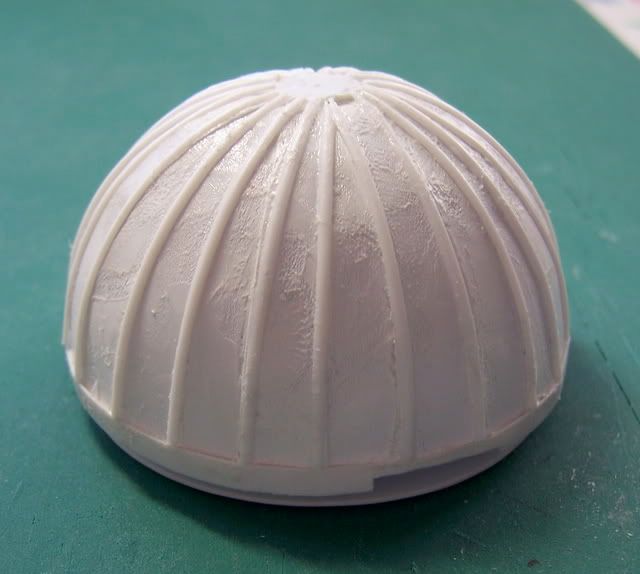 So here is the Silo with the Dome installed.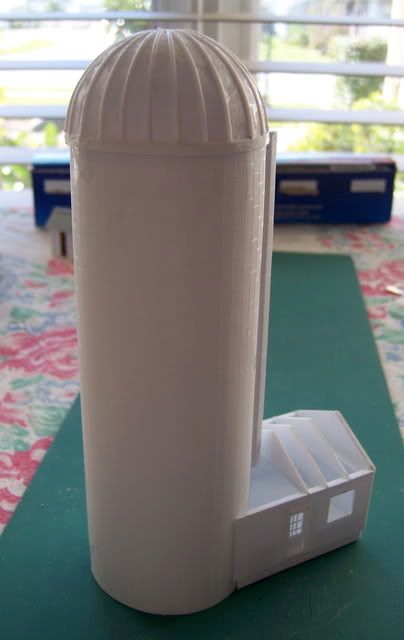 I did place a cap over the Climbing Tower but as I now see in the picture, you can't see it! :evil:

I guess it's now back to the windows, and to set down and work on my "To Do List".

Wayne

____________________
My Layout "The South Shore Line":
http://yourmodelrailway.net/view_topic.php?id=509&forum_id=21