Wayne Williams
Member

| | |
| --- | --- |
| Joined: | Mon Oct 15th, 2007 |
| Location: | Hudson, Florida USA |
| Posts: | 2635 |
| Status: | Offline |
My photos:
view photos in Gallery
view photos as slides
phill wrote:Look forward to when its all done and it is in situ on the layout.
Phill

Thanks Phill, ME TOO!!


Here is the final test shot. This shows the pencils lines with two concrete washes over them, and I like it! I was surprised that the pencil lines did not wash out or run when the thinned concrete wash was applied.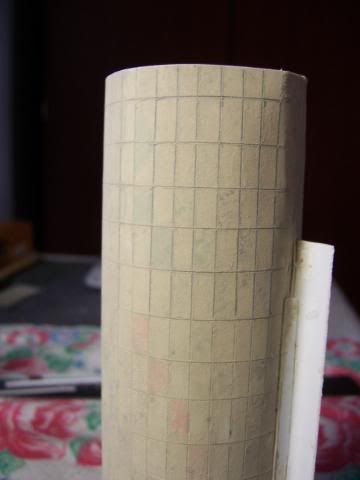 Well now, after two weeks of testing and doing a lot of learning, I am ready to apply the paint to the Silo. Here is the painting schedule.

1. Wash Silo with soap and water, allow to completely dry.

2. Apply white gesso thinned with water over the entire surface. The white gesso is thinned to about a 50/50 mix. Allow to completely dry.

3. Paint all the chosen blocks with colored paints as tested. I will chose which blocks to paint what color based upon the prototype pictures. All colors were mixed with Ivory White 50/50. Allow to completely dry.

4. Decide which blocks needs "Dabbing" (speckled) get that done. Allow to completely dry.

5. Wash the silo with thinned concrete and immediately add the Talc, blow off all excess Talc immediately. Allow to completely dry.

6. Draw in with a fine tipped pencil all scribe lines.

7. Wash entire Silo with thinned concrete. Allow to completely dry.

8. Wash entire Silo with thinned concrete. Allow to completely dry.

And as they say, that's that!

I intend to start the actual Silo this Friday. After all these photos, is anyone still interested is seeing step by step photos of the actual Silo? If so, then I will do it. Just let me know.

If I have missed a step or something, nows the time to speak up!

Wayne

____________________
My Layout "The South Shore Line":
http://yourmodelrailway.net/view_topic.php?id=509&forum_id=21