Bob K
Member

My photos:
view photos in Gallery
view photos as slides
I am often surprised when I browse through the major model railway magazines when I see superb layouts, with exquisite scenery but are populated by model figures that are poorly painted. I can see why as these tiny figures are perceived as being intricate and time consuming to paint to a decent standard. As for me - I have always enjoyed painting 00 scale figures, which is almost a hobby in its own right. Like many I started off painting military figures, moved on to historical and more recently I have tried my hand at railway and civilian figures. I do not claim to be an expert but over the 30 odd years that I have dabbled in this area I have learned a few tricks that may be of interest to others. Furthermore, others may come forward with better ideas and add to this thread. My aim is to look at 2 or 3 different styles in order that members can adapt for their own needs. Any ideas and comments as I go along will be most welcome

For the purpose of this thread I will use Dapol figures. There are surprisingly few good 00 figures available in plastic, particulalrly in unpainted hard plastic. The HO scene is well catered for, although most, not all, come ready painted. Although old the Dapol range (ex Airfix) are well moulded, highly deatiled and easy to paint. Sadly the poses are a bit limited, with only 2 sets available.

I will look at several distinct painting styles and will produce a step by step account of how I deal with each style. This thread may go on a while as I snatch opportunities between other activities! As a start point, regardless of style it is important to prepare the figure. First the figure must be washed in warm water, with a little detergent added (washing up liquid will do). This will remove any grease and this is vital if acrylics are used. Secondly any mould marks or flash should be cut away before painting commences.

Before starting to paint the figure it is worth having a think about what it is doing, what era is represented and where it will be located in its final setting. This will determine, pose, dress, colour scheme etc.

I will be using acrylic paints, which is a new venture for me, having painted mainly using modelling enamels. So the subject matter:

The first batch will be a group that has been painted in overall black. Blocks of colours are then applied, followed by shading and highlights to build depth. Here you see some colours having been applied to the flat black: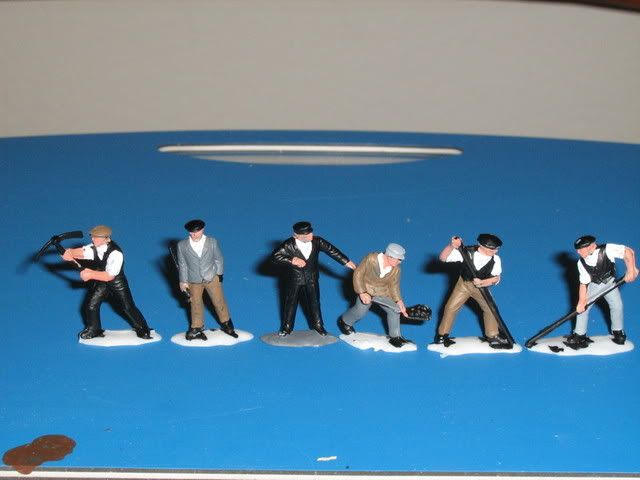 The second batch will be painted directly onto the light grey plastic, in a similar way and I suspect the emphasis will be towards shading as the colours will start much brighter on the lighter background: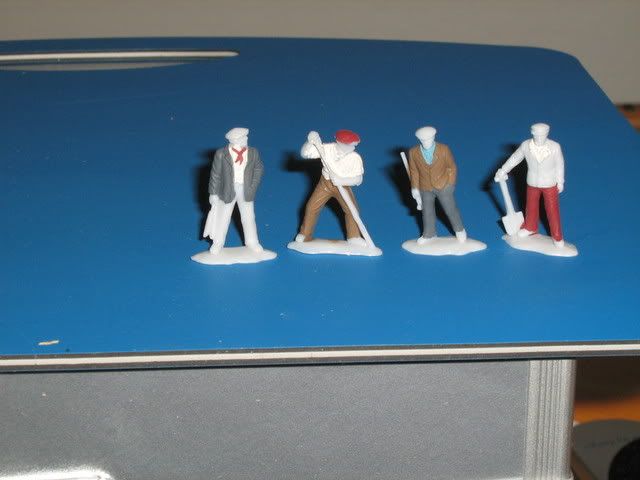 Next I have some nearly completed figures painted in enamels. The aim here will be to improve them using shading and highlights:




Finally this group has been converted by swapping heads to create some different figures. I am not sure how these will be painted, possibly dry brush on black. The original male poses can be see in earlier pictures and the two females have simply swapped heads and one has lost her umbrella.




All being well this should prove to be an interesting project

Bob(K)