Brossard
Member

My photos:
view photos in Gallery
view photos as slides
Having lost my post on the Milk Van, I will reprint it, this time using Photobucket links:

Besides the picture (of 38550) shown in LMS Coaches by Essery and Jenkinson, there is one other picture (of 38551) in an article by Essery in LMS Journal 31. This article also contains a works drawing of the brake rigging.


I went down several dead ends and my sanity was severely tested on this build. I won't bore you with that and simply cut to the chase.

Body:

Generally accurate but Hornby used their generic Palethorpes mould. The ladder, platforms and ice hatch have to be removed and the roof filled and smoothed over.

Underframe:

I did a complete scratch build using Evergreen sheet and strip.



[/URL]

The heart of the underframe is a Slater's Cleminson chassis:


[/URL]

Not the most ideal choice, being designed for 00 and for their six wheeled MR coaches. A better choice would have been a universal chassis such as Brassmasters (next time). In the event, the only mod I had to make for EM was to detach the W irons and stick them to the solebars. The wheelbase was, fortunately correct.

Wheels:

I thinned some Bachmann coach wheels to 2.2 - 2.3 mm.

I spent rather a long time detailing the underframe. The strategy for painting and assembling all the bits took a fair bit of thought.

So, here we are:


[/URL]

Here's a shot of the underside: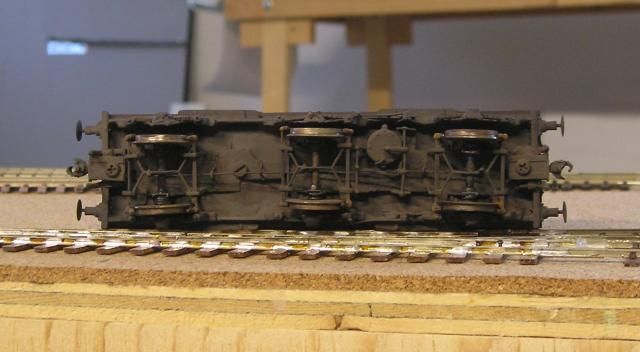 [/URL]

John



____________________
John